Tuesday, September 15, 2009 at 3:09AM
ANNOUNCEMENTS
- Beers
http://www.urbandictionary.com/define.php?term=Wisest+Wizard
TECH
Apple's "It's Only Rock N' Roll..." event goes as expected
Apple music fans got their rocks off today as Apple unveiled several software and hardware upgrades with music
in mind. If you've been following the rumor sites then none of this should be shocking:
iTunes 9
- iTunes LP provides a return to the good ol' days of album art with some extra media packed in for select iTunes
releases. Most likely aimed at getting folks to pick up entire albums. Selection is limited but I would love to see
it pick up real quickly
- Updated iTunes store interface.
- Home Sharing just adds 5 extra permitted users on a network.
- iTunes extra adds bonus features to select movie purchases (interviews, trailers, etc.).
iPhone
- 3.1 adds some features not worthy of noting.
- Madden NFL 10 & Assassin's Creed 2 coming to app store along with others.
iPods
- Touch gets a hardware upgrade (claims 50% performance increase and Open GL ES 2.0 support) on the 32 & 64GB
models while the 8GB gets a $50 price drop to $199.
- Shuffles get new headphones, capacities and colors but who cares ($99 for a stainless steel "special edition"...seriously?)
- Classic gets capacity bump to 160GB.
- Nano gets a video camera, microphone, speaker, FM radio, pedometer and voice over alerts (ala shuffle). Way to balance
out the product line's features :D
VIDEO GAMES
Sonic the Hedghog to return to his 2D roots
If you have played a Sonic the Hedgehog game in the past several years you may be a tad confused
as to why you are playing a 3D menagerie, a were-hedgehog combo-fest or a fucking fishing cat.
Well apparently, Sega has finally hired someone who listened the the incessant complaining of fans about their
beloved series. The 2D sonic was announced Tuesday at the Tokyo Game Show. Details are sparse
but the high definition game (wonder which console it's arriving on) is set to release sometime in 2010.
ODD NEWS
Follow up on the McD's 365Black story. I am pleased to Announce
the Asain version. Are you fucking kidding me? not this shit again...


Loaded to the guild with sterotypes, hip hop beats and cool asian phrase translator,
compared to the 365black the asains know how to have a good time.
MyInspirAsian.com






Fast food giant loses in McDonald's vs. McCurry tiff
PUTRAJAYA, Malaysia (Reuters) – Fast food giant McDonald's
on Tuesday lost an eight-year trademark battle against a Malaysian curry restaurant
after the country's highest court allowed the latter to use the prefix 'Mc'.
Malaysia's Federal Court dismissed an application by McDonald's Corporation
to appeal against an earlier Appeals Court judgment which allowed McCurry to use the prefix.
McDonald's had failed to properly frame its questions
when applying to challenge the Appeals Court's earlier verdict.
McCurry, which is short for "Malaysian Chicken Curry,"
"We feel great that this eight-year legal battle is finally over,
and we can now go ahead with whatever we plan to do such as opening new branches,
" McCurry owner P. Suppiah told Reuters after the court decision.
McDonald's, which has 185 outlets in Malaysia,
first sued the curry restaurant in 2001
and a High Court ruled in favor of the international fast food chain in 2006.
McCurry then took the matter up to the Court of Appeal,
which ruled in favor of the Malaysian restaurant.
McDonald's subsequently took the matter to the Federal Court.


ODD NEWS



Bank's thumbprint rule irks man with no arms
updated
1:51 p.m. PT,
Thurs., Sept . 3, 2009
TAMPA, Fla. -
A Florida man born without arms says a Tampa bank
would not let him cash a check because he couldn't provide a thumbprint.
Steve Valdez didn't have an account at a Bank of America
location
in downtown Tampa, where he tried to cash a check from his wife last week.
However, Valdez has prosthetic arms and is unable to provide a thumbprint.
He says he presented two forms of identification but was still denied.
He says a bank manager
told him he could either come back to the bank
with his wife or open an account himself.Bank of America spokeswoman
Nicole Nastacie said the bank has apologized to Valdez.
Nastacie said the bank should have
"offered alternative requirements if an individual is not able to give a thumbprint."
lol this article makes me smile. Aaron hates "bank of America" good to know they still suck!
Record by Japan's next leader hot on net auction
TOKYO (Reuters) – Japan's next leader, Yukio Hatoyama,
probably never thought a song he recorded 20 years ago
would one day fetch a pretty penny on online auction sites.
The vinyl single, "Take Heart - Fly, Dove of Peace,"
recorded in 1988 when Hatoyama was first elected to parliament,
recently sold for 35,000 yen in an online auction.
Hatoyama, 62, who is the wealthy grandson of a former premier,
Another copy of the yellow-jacketed record, showing a much younger,
grinning Hatoyama, has appeared on a Yahoo! Japan auction with a starting price of 50,000 yen.
The auction closes later this week, but so far has no bids.
Teruaki Asanuma, the 65-year-old dentist who wrote the song,
used his own funds to make 100 copies of the album and gave them to Hatoyama supporters,
according to an Internet news site based in Hatoyama's home district of Hokkaido in northern Japan.
"I never imagined that there would be a day when this tune would come into the spotlight,
" Kyodo news agency quoted Asanuma as saying.
"Now I hope he will help to guide everyone to happiness as suggested in the lyrics of the song."
Japanese media have been digging up video of Hatoyama's formerly less-known artsy side.
TV shows Monday showed him singing in a musical with his wife Miyuki,
Japan's next first lady says she rode spaceship
Former actress also claims Tom Cruise was Japanese in a previous life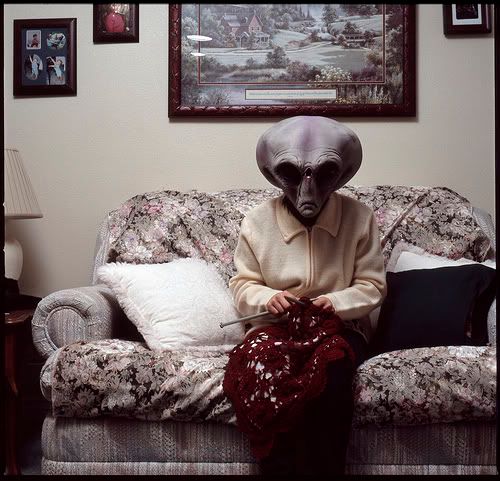 msnbc.com news services
updated
11:51 a.m. PT,
Wed., Sept . 2, 2009
TOKYO - Japan's next prime minister might be nicknamed "the alien,"
but it's his wife who claims to have had a close encounter with another world.
"While my body was asleep,
I think my soul rode on a triangular-shaped UFO and went to Venus,
" Miyuki Hatoyama, the wife of premier-in-waiting Yukio Hatoyama
,
wrote in a book published last year.
"It was a very beautiful place and it was really green.
following his party's crushing election victory over the long-ruling
Liberal Democratic Party Sunday.
Miyuki, 66, described the extraterrestrial experience,
which she said took place some 20 years ago,
in a book entitled "Very Strange Things I've Encountered
."
Bank robber: I did it to get away from my wife
Defense lawyer says culprit told tellers to call police during Pa. stick-up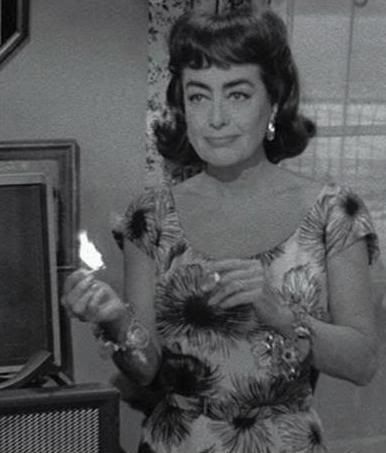 updated
2:23 a.m. PT,
Wed., Sept . 2, 2009
LANCASTER, Pa. - A Pennsylvania man said he robbed a bank in 2007
to go to jail and get away from his overbearing wife.
At a sentencing hearing Monday,
39-year-old Anthony Miller said he robbed a bank in Ephrata
because he wanted to leave his then-wife
but she had threatened to commit suicide if he did.
Defense attorney Robert Beyer said Miller approached tellers with a BB gun,
asked for money and told them to call the police.
He said Miller even asked for updates on their efforts to reach authorities.
Miller pleaded guilty in June.
and was sentenced to three to six years in prison on Monday.
Beyer said the couple divorced within the last year.
Police: Ohio robbery suspect asked victim for date
COLUMBUS, Ohio – Police said a suspect in a home robbery
was arrested when he returned to the home about two hours later
to ask the victim for a date.
Police say 20-year-old Stephfon Bennett of Columbus was among three men
who robbed a couple late Sunday.
Columbus police Sgt. Sean Laird said the woman recognized Bennett
as one of the robbers when he returned to asked her out. She had a relative call 911.
Police said Bennett was arrested in front of the home.
He was arraigned Tuesday on a charge of aggravated robbery
and was being held in the Franklin County jail on $100,000 bail.
Scott
|
Post a Comment
|