Saturday, March 13, 2010 at 10:50PM
ANNOUNCEMENTS

- No Beers this week due to the high intesity of shots that will be consumed during the show.




TECH

First iPad Commercial Airs During Oscars


The commercial was just on, depicted a person using the iPad on their lap, going through the
various features (iBooks, Pages, Videos, etc. nothing new)
The Apple iPad will launch on April 3rd with pre-orders starting on March 12th.
MacRumors
If i can find a better tech topic I"ll get rid of this one.




VIDEO GAMES


Another year, another attempt to crack the nut of Mac gaming. Longtime purveyors of quality
gaming and good ol' fashioned common sense Valve Software announced on Monday that they
are bringing their Steam game distribution platform (along with their own library of titles) to
Mac OS X next month. Valve President Gabe Newell says "the Mac is a great platform for
entertainment services" and also confirms that the upcoming Portal 2 will be released simult-
aneously on Windows and Mac. Valve has been teasing images that would suggest the Steam
OS X service but its safe to say that Mac gamers and gamers in general have a lot to look
forward in the gaming digital distribution future.
God of War 3 sex mini game is...meh?
While I'm still jealous at my PS3 owning pals for their upcoming (or current) enjoyment of
the much anticipated God of War 3 I can't say I'm too taken by this installment's adults only
mini-game. Risque mini-games have been a series staple for the God of War games offering
plenty of nude Grecian women that spew red health/experience orbs but this one leaves me
a bit unimpressed. The German site cynamite.de has the uncensored footage for your so-so
viewing pleasure.
Resident Evil 5 Gold is out today
Anybody with an Xbox 360 and a copy of RE5 Gold up for some too-little too-late co-op?
Didn't think so but Hiller will be picking this up to get up to speed on the RE series.
MOVIES
2010 "Oscar Shots"
(the game)"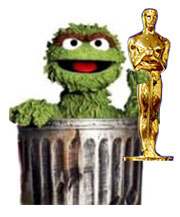 Game Rules:

same as last year
( Ric Read)
So the oscars were ok. Martin and Baldwin were fine. Neal patrick Harris in a messed up tux and Ben Stiller dressed up as a Nav'i both kind of missed the mark and the big movie of the night was not what we all thought it would be.


The tallys have been counted. And we shall now announce the winners and big losers.
So for all you new listeners here is the game.

-We each pick our winner for each category.
-If your pick isn't the winner then do a shot.
-The person(s) with the lowest matches automatically must do shot.
-At end of game the person(s) with the most wins overall gets to dish out a shot
-Anyone goes perfect all others drink 2 shots.
(Hiller)
This one really could have been called the "No Shit Serlock Award" - No one was picking anyone else to win - Even Clooney said at the pre-show he had voted for Jeff to win. The Oscar's doing something a little different this year having other Celebs come out and say something about each of the nominees. Michelle Pfeiffer was able to bring Bridges to tears. Bridge's won for Crazy Heart.
Actor in a Leading Role
Jeff Bridges
- Crazy Heart SC, RM WINNER
George Clooney - Up in the Air CH
Colin Firth - A Single Man NB
Morgan Freeman - Invictus JM, AV
Jeremy Renner - The Hurt Locker
(scott)
Quinten's IB took a back seat for most of the night except for the one outstanding performance in the film that of the SS officer played by Christoph Waltz. If you didn't see IB See it for him alone. His performance is truly astonishing and definitely Oscar worthy.

Actor in a Supporting Role
Matt Damon - Invictus JM
Woody Harrelson - The Messenger
Christopher Plummer
- The Last Station NB
Stanley Tucci - The Lovely Bones RM
Christoph Waltz - Inglorious Basterds SC, CH, AV WINNER

(nate)
In another Give me. Sandra Bullock took home the Oscar for best actress in a leading roll the night after she took home the Razzie for Worst Actress in a leading roll. Plus she actually went and accepted the Razzie in person. She made a move to Streep who then waived her to the stage and then said. "I don't know if I won this award or just wore you all down." Regardless of how she got it the Golden man is hers.
AbcNews.Go.Com
For Razzie Acceptance Speech
Actress in a Leading Role
Sandra Bullock - The Blind Side SC, RM, JM WINNER
Helen Mirren - The Last Station
Carey Mulligan - An Education NB
Gabourey Sidibe - Precious CH
Meryl Streep - Julie & Julia AV
(Ric)
I will admit that I was a bit let down that when she won she didn't say "I will break your Dick off." Non the less for her roll of an abusive mother in Precious mo'nique wins for best supporting actress. No BIG upset there.
Actress in a Supporting Role
Penelope Cruz - Nine - FUCK PENELOPE CRUZ
Vera Farmiga - Up in the Air
Maggie Gyllenhaal - Crazy Heart AV
Anna Kendrick - Up in the Air JM, NB
Mo'Nique - Precious SC, RM, CH for Beerfest's Mo'Nique WINNER

(Jason) Come up with something here. I didn't see any of it or any of the awards for this.
Animated Feature Film
Coraline (Although i think this film should win! SC) RM
Fantastic Mr. Fox AV
The Princess and the Frog
The Secret of Kells
Up SC, JM, CH, NB WINNER
(Jason) Funny how Kathryn Bigelow sat right in front of James Cameron? Then as they announce the winner she kind of pauses as if to be like. "Holy fuck I beat him." Hiller Picked that one, no idea
how he pulled that Bullshit out of his ass. Bigelow is the 1st woman to ever win for Best Director.
Best Director
James Cameron - Avatar SC, RM, JM, AV
Kathryn Bigelow - The Hurt Locker CH WINNER
Quentin Tarantino - Inglourious Basterds
Lee Daniels
- Precious NB
Jason Reitman - Up in the Air
(Ric)
As Tom Hanks ran out on the stage in a matter that made him look like he had a producer in his ear screaming hurry the fuck up. He made a lil joke then made James Cameron sit back down and his Ex Wife freak out and the Hurt Locked shocked the Oscar world. Scotts Exact text to me after the winner FUCKKKKK.
Best Picture

Avatar SC, JM, AV, CH, NB
The Blind Side
District 9
An Education
The Hurt Locker WINNER
Inglourious Basterds
Precious: Based on the Novel 'Push' by Sapphire
A Serious Man
Up
Up in the Air



According to Torrent Freak, a popular bit torrent site, If every download on BitTorrent counted as a
vote, District 9 would be crowned the winner, closely followed by Avatar. The least popular films
according to the BitTorrent public are The Blind Side with 1,845,000 downloads and An Education
with 'only' 683,000 downloads. So there ya go!
Torrent Freak



SCIENCE
AUTOS

Chocolate-powered racecar makes sustainability sexy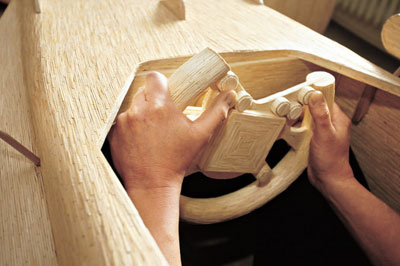 By Ros Krasny
Ros Krasny
– Tue Mar 9, 12:54 pm ET
BOSTON (Reuters Life!) –
Fueled by leftover chocolate and with components made from carrots,
potato starch and flax,
the world's first sustainable Formula 3 racing car has a top speed of 135 miles per hour
and can go from zero to 60 in 2.5 seconds.
Sound nuts? Not yet -- brake pads made from cashews are still under development.
Meet Lola, the England's University of Warwick's blend of muscle and
eco-friendliness and the world's first racing car retrofitted with
renewable and sustainable materials.
Researchers from the British university showed off their prize possession
at the Massachusetts Institute of Technology's (MIT) energy conference in Boston.
"She's incredibly green, taking materials that would otherwise have ended up in a landfill.
It lets people engage with recycling without the finger-wagging,
" said Kerry Kirwan, one of the car's designers at the university.
"The public has really taken the car to its heart, because she's fun," he said.
Many of the car's components would more usually be found at a farmer's market
-- or in a trash bin, since most of the materials are actually industrial waste.
The 2.0-liter BMW engine has been converted to diesel from gasoline
and configured to run on fuel derived from waste from chocolate factories
or other plant-based oils.
Among Lola's other unique features is a radiator that converts ozone back to oxygen.
"It's a racing car that cleans up as it goes along," said Steve Maggs,
another member of the design team.
The WorldFirst Formula 3 racing car took the university more than nine months to develop
and cost around $200,000.
Kirwan said that the thinking behind the project was to
find a way to really put recycled materials to the test.
"A lot of these technologies were a huge leap of application,
something that shows the material under a really demanding application."
ODD NEWS
Woman charged in breast milk assault on jailer
OWENSBORO, Ky. – A woman in jail for public intoxication was accused of assaulting a jailer
by squirting breast milk at her. WYMT-TV reported that a 31-year-old woman was arrested
Thursday on a misdemeanor charge of public intoxication. But as she was changing into an
inmate uniform, she squirted breast milk into the face of a female deputy who was with her.
The woman now faces a felony charge of third degree assault on a police officer. Her bond
was set at $10,000.
Man In Chicken Suit Shot By Pellet Gun
WICHITA, Kan. --
Police in Kansas are investigating a drive-by shooting with a bit of a twist.They say a man sporting
a chicken suit to advertise for a burger joint became the target of a drive-by shooting, shot in the
thigh Friday afternoon with a pellet gun."I thought it'd be kind of neat to be in a cow outfit, but
I'm too fat. I couldn't get in a cow outfit so chicken was just appropriate and I have a sign outside
that says eat more beef," Burger Barn owner Robert Hatter said. Hatter was strutting his stuff during
the lunch rush hour when a car pulled up beside him and someone inside shot at him twice.
"Apparently they didn't like chicken," Hatter said.
Hatter was treated for minor injuries and was back at the Burger Barn in less than three hours.
Police are still searching for those responsible.
New Zealand woman sells souls to highest bidder
Mon Mar 8, 11:33 pm ET
WELLINGTON, New Zealand –
The rare spirits that went under the gavel
at a recent online auction in New Zealand
weren't aged brandies or hard-to-find liqueurs.
Instead, two glass vials purportedly containing the ghosts of two dead people
sold for $2,830 New Zealand dollars ($1,983) at an auction that ended Monday night.
The "ghosts" were put up for bidding by Avie Woodbury
from the southern city of Christchurch.
She said they were captured in her house and stored in glass vials
with stoppers and dipped in holy water, which she says "dulls the spirits' energy."
She said they were the spirits of an old man who lived in the house during the 1920s,
and a powerful, disruptive little girl who turned up after a session with a spirit-calling Ouija board.
Since an exorcism at the property last July led to their capture,
there has been no further spooky activity in the house, she said.
The auction attracted more than 214,000 page views and dozens of questions
before the winning bid, Trademe auction site spokesman Paul Ford said Tuesday.
The name of the winning bidder was not released.
Woodbury said that once an "exorcist's fee" has been deducted,
the proceeds of the spirit sale will go to the animal welfare group
the Society for the Prevention of Cruelty to Animals.






Scott
|
Post a Comment
|