Friday, February 12, 2010 at 2:10AM
ANNOUNCEMENTS
- Beers
- New Xbox 360 is on the way for Hiller
- What the hell is with all this snow?
TECH
scott
Google launches Buzz to reign in social media overload
Today Google announced its latest social application, designed to bring the fire hose of social media and status
updates down to a useful trickle of the most "interesting" bits. Dubbed Google Buzz, the service is designed to
offer easier ways to share links, photos, and other information, corral all those things shared by friends and other
connections, and integrate well with other services in an open way.
It's "a Google approach to sharing," according to Todd Jackson, product manager for Gmail and Google Buzz.
While the rumor was that Buzz would be Google's "Twitter-killer," it would actually be missing the point to describe
it that way. Buzz offers a way to share status updates, if you want to use it that way. It can also be used to share
links, videos, photos, and more—in this regard, it's more akin to Facebook posts or even quick-blogging services
like Tumblr or Posterous. Buzz can also integrate with other social services to share any publicly accessible
things you post to Twitter, Facebook, Flickr, Picasa, Google Reader, Blogger, and any service
that offers an RSS feed.
ArsTechnica
chris
Google warns Chinese knock-off to stop using logo
SHANGHAI (Reuters) –
Google Inc has sent a cease and desist letter
to the operators of a Chinese search website
whose logo bears a close resemblance to its own.
A Google spokeswoman said on Tuesday
that the company has officially asked Goojje
to stop copying Google's logo,
which is protected by trademark.
China has a notoriously poor record
at protecting intellectual property rights.
Pirated software, music, movies and clothing,
among a host of other goods,
are widely available throughout the country
despite repeated government crackdowns.
Goojje has already stopped using its original URL,
www.goojje.com. Visitors typing in the address
now get automatically redirected to dierqi.com,
though the content appears to be the same.
Last month,
Google threatened to pull out of China
over censorship concerns
and what it said was a serious hacking incident
that resulted in the theft of its intellectual property.
VIDEO GAMES
XXXXX

XXXXX
MOVIES
ric
Dr. Parnassas. Quick review: SUCKED.

Ric's Review: Skip it. run away!!
hang yourself?
2010 Tanked Oscar Picks for "Oscar Shots
(the game)"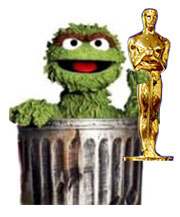 Game Rules:

same as last year
-We each pick our winner for each category.
-If your pick isn't the winner then do a shot.
-The person(s) with the lowest matches automatically must do shot.
-At end of game the person(s) with the most wins overall gets to dish out a shot
-Anyone goes perfect all others drink 2 shots.

Best Picture
Avatar SC, JM, AV, CH
The Blind Side
District 9
An Education
The Hurt Locker
Inglourious Basterds
Precious: Based on the Novel 'Push' by Sapphire
A Serious Man
Up
Up in the Air
Best Director
James Cameron - Avatar SC, RM, JM, AV
Kathryn Bigelow - The Hurt Locker CH
Quentin Tarantino - Inglourious Basterds
Lee Daniels
- Precious
Jason Reitman - Up in the Air
Actor in a Leading Role
Jeff Bridges
- Crazy Heart SC, RM
George Clooney - Up in the Air CH
Colin Firth - A Single Man
Morgan Freeman - Invictus JM, AV
Jeremy Renner - The Hurt Locker
Actor in a Supporting Role
Matt Damon - Invictus JM
Woody Harrelson - The Messenger
Christopher Plummer
- The Last Station
Stanley Tucci - The Lovely Bones RM
Christoph Waltz - Inglorious Basterds SC, CH, AV

Actress in a Leading Role
Sandra Bullock - The Blind Side SC, RM, JM
Helen Mirren - The Last Station
Carey Mulligan - An Education
Gabourey Sidibe - Precious CH
Meryl Streep - Julie & Julia AV
Actress in a Supporting Role
Penelope Cruz - Nine - FUCK PENELOPE CRUZ
Vera Farmiga - Up in the Air
Maggie Gyllenhaal - Crazy Heart AV
Anna Kendrick - Up in the Air JM
Mo'Nique - Precious SC, RM, CH for Beerfest's Mo'Nique
Animated Feature Film
Coraline (Although i think this film should win! SC) RM
Fantastic Mr. Fox AV
The Princess and the Frog
The Secret of Kells
Up SC, JM, CH






TV
scott
Every Violent Act in the 2010 Superbowl Ads
Really? What is point of this in the show? The majority of the clip is from 2 commercials. Nothing in this title even speaks to real violence.
I am not sure I even understand what the point of the clip actually is. I watched and then I read the entire thread on Boing Boing. Very interesting
arguments on both sides. I think the most important thing to take away from the entire superbowl experience is... what does all that say about our culture?
MISC.
chris
Heinz updates the ketchup packet
In the "it's about fucking time" department, Heinz has unveiled it's new ketchup packet
which features a new look and versatility. The new packet improves on the 40 year old
existing ones with a squeeze nozzle and a tear away panel for dipping. The packet holds
three times as much ketchup and Heinz claims that they can be produced quite cheap.
The packages are expected to rollout to test markets this fall.
ODD NEWS
aaron
This topic is from Tanked listener
bryan yerg
Mildred's Temple Kitchen, Canadian Restaurant,
Encourages Sex In It's Bathrooms
Visitors to Mildred's Temple Kitchen, a restaurant in Toronto, Canada, are invited to spice up
their love life this Valentine's Day with a trip to the bathroom. The individual bathrooms will
be open for sexual escapades from the 12-15th February. According to the manager,
Rory Gallagher
,
a french maid will be working the toilets, making sure everything is "going smoothly and kept clean."
"We've always had little trysts in our bathrooms," co-owner Donna Dooher told
The Toronto Star
.
"We're taking it to the next level on Valentine's weekend." She added that customers are
expected to bring their own condoms.
Huffington Post
Broadcaster fined over killing a rat on TV show
SYDNEY/LONDON (Reuters) –
British broadcaster ITV pleaded guilty to animal cruelty
and was fined by an Australian court on Monday
after a rat was killed and eaten on the reality TV show
"I'm a Celebrity ... Get Me Out of Here."
Italian chef Gino D'Acampo and British actor
Stuart Manning were originally charged with animal cruelty
last December after an RSPCA complaint over an episode
filmed in Australia that involved killing and cooking a rat.
But Sky News reported on Monday that ITV admitted its production
staff had given the go-ahead to a request to kill the rat
and the broadcaster pleaded guilty to the charge.
The court was told that the rat took a minute-and-a-half to die
after being stabbed with a knife which the magistrate said
caused unnecessary pain to the animal.
ITV was fined A$3,000 ($2,600) and ordered to pay A$2,500 in costs.
RSPCA Chief Inspector David O'Shannessy said
all animals are protected under the Cruelty to Animals Act
in the state of New South Wales.
Study toasts beer as being good for your bones
NEW YORK (Reuters) –
Beer drinkers now have a good excuse to order another round
-- the brew may help keep bones strong, a study has found.
Researchers from the Department of Food Science & Technology
at the University of California, have found beer is a rich source of silicon
and may help prevent osteoporosis,
as dietary silicon is a key ingredient for increasing bone mineral density.
These were the findings after researchers tested 100 commercial beers
for silicon content and categorized the data according to beer style and source.
They found pale ales showed the highest silicon content
while non-alcoholic beers,
light lagers and wheat beers had the least silicon.
"Beers containing high levels of malted barley
and hops are richest in silicon," said Bamforth.
(but before you think we here at tanked
have gotten you out of trouble with your wife or girl friend.
with our clever cut and paste news.)

Bamforth told reporters that the results shouldn't be taken too serious.
The study examined the beers but it did not look at bone mineral density
or analyse patients' data.
"I would first consider flavor and whether you like it or not,
" he told science and technology magazine Discover.
"Choose the beer you enjoy, for goodness sake."
Bamforth has got the tanked "" of the year as far as i am concerned.
"Choose the beer you enjoy, for goodness sake."


FOOD ATTACK!!!!!!!!!!!!!!!!!!!!!!!!!!!!!!!!!!!!!!!!!!!!!!!!!!!!!!!!!!!!!!!!!!!!!!!!!!!!!!
Thief robs arcade with cup of coffee
You can also buy said mug
HERE
.
BERLIN (Reuters) –
A thief in the German town of Hamelin
robbed an amusement arcade
by threatening the attendant with a cup of coffee,
authorities said on Tuesday.
"He wasn't going to pour coffee over her,
he was going to hit her with the cup," a spokesman for local police said.
Brandishing the steaming cup he had just ordered,
the thief forced the 26-year-old to open the till and fled with cash.
Police would not say how much money he had taken from the attendant,
who had been alone in the arcade.
"We don't want to encourage others to try this," the spokesman said.
Scott
|
Post a Comment
|