Tuesday, January 12, 2010 at 1:52AM
ANNOUNCEMENTS
- Beer
- It's 2010
- Turducken
- CES is a happenin'.
TECH
Google Nexus One is official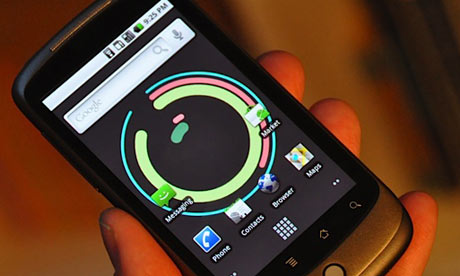 Google announced their much-hyped self-branded smartphone this morning (to the surprise of
nobody). The Nexus One packs a large 480x800 AMOLED display (sorry, no multitouch) and
runs the anticipated 1GHz Snapdragon CPU from Qualcomm. It comes with a 4GB microSD card
(expands up to 32GB) and features a 5 megapixel camera, flash, light sensor, proximity sensor,
accelerometer and a GSM radio. The Nexus One runs Android 2.1 which Engadget says is not
that dramatically different from previous Android offerings (voice dictation looked good though).
Buyers can choose an unlocked Nexus One for $529.99 or sign a 2-year agreement with T-Mobile
and get the phone for $179.99. Verizon is set to pick up the phone in Spring.
SCOTT - SKYPE HD. SHOULD WE TALK ABOUT IT?
VIDEO GAMES
George Costanza's Frogger record shattered
Before his arcade cabinet was shattered, George Costanza held the fictional world record score
of 860,630 points on the famous 1998 Seinfeld episode "The Frogger." George will now have to
settle for second as his score (previously thought unattainable) was beaten by Westport, CT's
Pat Laffaye. Pat tallied up an impressive 896,980 points which was verified and announced at
the stroke of midnight on Jan 1st. Pat also holds the world record for Paperboy.
Xbox 360 thief foiled by stupidity
22 year-old Jeremy Gilliam didn't think things through with his latest theft, an Xbox 360. Jeremy
didn't disable the auto sign-in feature before using the existing Xbox LIVE service left over from
the system's rightful owner. When said owner noticed that his Gamertag was active he then
notified detectives which worked with Microsoft to pinpoint the IP address of the stolen console.
Detectives traced the trail to Gilliam's grandmother's house where they found many stolen games,
laptops, GPS units from hundreds of vehicle break-ins and one incredibly stupid theif. Gilliam has
been charged with grand larceny for his numerous robberies.
MOVIES
Call Ric
Brett Rattner confirmed as Director for BHC4. Eddie Murphy Returns as Detroit Officer Axel Foly in BHC4
they made there f*&king money back long live Avitar
Kevin Smith to shoot new movie in Detroit. Hit Someone. Based on the song by Warren Zebon.
Writen by ass hole Detroit news sports writer Mitch Album. I hate him.
Pic of the New A-Team
Cast
SCIENCE
Japanese Scientists Create See-Through Goldfish


Photos via AFP
Japanese researchers have produced a new species of goldfish with see-through skin.
You can see the fish's beating heart, brain, and other internal organs, right through its
invisible scales. And that's precisely the point--the scientists created the fish to eliminate
the need for dissections, which are getting ever more controversial in Japan.
the researchers "produced the "ryukin" goldfish by picking mutant hatchery goldfish with
pale skin and breeding them together." They effectively bred fish with translucent,
pigment-less scales and skin. The see-through fish will also live 20 years and grow
up to 10 inches long--proving they're certainly not your average goldfish.
TOYS
Crazy Japanese Toys that Scott
Found on the Interwebs

HuffingtonPost.com
ODD NEWS


Will YouTube Porn Day take flight?
Rule #1 of the internet: don't piss off 4chan. Members of everyone's favorite site for
good ol' interwebs madness, 4chan are planning a mass backlash against YouTube for
the suspension of LUKEYWEST1234's account. LUKEY's YouTube goal was to get 50
subscribers to boost the moral for the pudgy and likable kid. 4chan took a liking to
LUKEY and boosted his subscriptions to well over 15,000 (with video tributes and all)
until YouTube suspended his account. Now 4chan has declared Jan 6th 2010 YouTube
Porn Day and are encouraging all to create bogus YouTube accounts and post massive
amounts of porn to the site with popular search criteria (Jonas Bros., children's
cartoons, etc.). Will the turnout underwhelm or will it lead to a YouTube admin
breakdown? Only time will tell.
Man opts for jail over New Year with relatives
frank
ROME (Reuters) –
A Sicilian man stole sweets and a packet of chewing gum
so he could get arrested and spend New Year's Eve
in a jail cell rather than be with his wife and relatives,
Italian media reported on Friday.
The 35-year old Sicilian first showed up at a police station
on Thursday asking to be arrested because he
preferred spending the night in prison rather than with his family,
but was rebuffed because he had not committed a crime,
the Agi news agency said.
The man immediately went to a tobacco shop next door,
where he threatened the owner with a box cutter as he grabbed
a few sweets and a packet of gum.
He then waited until police arrived to arrest him for robbery,
the news agency said.
Accused banjo beater can keep pickin' for now
aaron
ASPEN, Colo.
– A banjo player accused of assaulting
another man with his instrument will get to keep pickin'
while awaiting his trial. Joseph Stancato, 33, of Denver
faces second-degree assault charges after allegedly hitting
another man upside the head with his banjo on New Year's Eve.
Authorities said Stancato got into an argument with two men at a bus stop.
District Judge James Boyd on Monday approved Stancato's request
to be allowed on the road to tour with a band
while awaiting his next court date Feb. 6.
The banjo is considered "a deadly weapon" under Colorado law,
so Stancato could face prison time, the Aspen Daily News reported.
Police: Man locks up grandma to shoot fireworks
aaron
ALBUQUERQUE, N.M. –
Authorities are accusing a man of locking up his sickly
86-year-old grandmother on New Year's Day
so he could go outside and light off fireworks.
According to a criminal complaint,
the 21-year-old locked his grandmother in her room
about 15 minutes before midnight.
The woman is on oxygen and has to take medication regularly
for a congenital heart disease,
but both the machine and medicine were located in the kitchen.
The woman had to call police from a life alert system
inside her bedroom because Leder allegedly wouldn't let her out.
The man was charged with false imprisonment.
MISC.
Four Paw Drive... In Reverse



Dubai will on Monday open the world's largest tower as the city seeks to revitalise its economy after 2009's annus horribilis was capped by a debt crisis and a second $10bn bail-out loan from neighbouring Abu Dhabi.

A-TEAM Trailer
Scott
|
Post a Comment
|