Saturday, October 17, 2009 at 9:34PM
ANNOUNCEMENTS
- Beer
TECH

Windows7 Gets a Launch Party

Yes believe it or not Microsoft has picked a small amount of people to host Win7 Launch
Parties. I sent out an email 3 weeks ago but we weren't picked. Go figure. But in the last
several days instructional videos began to surface on how to go about throwing this
awkward party. Oh and i think we should throw our own next week.
Tounge and cheek of course.
Video of how to throw a launch party lol
How to Throw a "special" Party!
Sidekick users lose all of their data
In a critical strike to fans of cloud computing, T-Mobile has reported that personal data stored from subscriber's Sidekicks has "almost certainly been lost as a result of a server failure at Microsoft/Danger." While the T-Mobile folks are looking for a way to recover the data (which is not looking too likely at the moment) they are also suggesting that Sidekick users not power down their phones as the data that is stored on them most likely will not be on them when the devices restart. T-Mob has also halted sales of new sidekicks and listed the devices as "temporarily out of stock" on the company's web store.
Major bug in Snow Leopard deletes all user data
More problems plauge apple's latest OS. This issue takes the cake for any
operating system that i've ever used. Reports have been cropping up on the
Apple Support forums that users have been losing all their data due to a nasty
bug in Snow Leopard, Apple's latest

Operating

System

. Many users are reporting
that all settings are being reset and most data is gone, according to iTWire.
Conan interviews the REAL Ajay Bhatt
You know those clever Intel ads featuring co-inventor of the USB port Ajay Bhatt? Well it turns out that the person in the ads isn't the real Ajay Bhatt. Mr. Bhatt declined to star in the ads and was replaced by an actor. On Friday Conan O'brien broadcasted his interview with him on the Tonight Show. It both entertains and slams Firewire.
VIDEO GAMES
SCIENCE

MOVIES
Zombieland See it twice. Woody Harrilson Awsome.
Freddy is back "Nightmare on Elm Street" trailer is up.
The Imaginarium of Doctor Parnassus
Is Brian singer going to back to the X-men franchise?
MTV Interview W/Spider man, evil dead director to make movie about WoW.
Friday release. Where the wild things are.
See it or no?

YES!

ODD NEWS
Police nab man dressed as ninja, waving nunchucks
– Vernon Conn.police said they arrested a man
who was dressed as a ninja and waving nunchucks
while yelling about wanting
to beat up U.S. Sen. Joe Lieberman.
The man, 30, was charged Sunday with breach of peace.
Police said he was brought to Rockville General Hospital
for a psychiatric evaluation and later released.
Authorities said they received several
emergency calls about the man,
who witnesses say was standing at the corner of Route 83
and Regan Road at about 11 a.m.
Officers said they pulled out bean bag and taser guns,
and the man became polite and cooperative.
The man couldn't be reached Monday.
He has no public phone listing,
and it's not clear whether he has a lawyer.
Once in a black and blue moon...
A German man mooning at railway staff
in a departing train got his trousers caught
and ended up being dragged half naked along the platform,
out of the station and onto the tracks.
The 22-year-old journalism student
shoved his backside against the window
of a low-slung double-decker train when staff forced him off
in Lauenbrueck for traveling without a ticket,
a spokesman for police in the northern city of Bremen said.
"It's a miracle he wasn't badly hurt,"

"This sort of thing can end up killing you."
Instead, dangling by his trousers,
the man got pulled along for about 200 meters,
all the while managing to keep his legs away from the wheels of the train.
The ordeal ended when a passenger pulled the emergency brake.
Rescues services were called in,
causing rail services between Bremen and Hamburg
to be suspended for over an hour, delaying 23 trains.
The man -- unharmed except for cuts and bruises --

now faces charges of dangerous interference in rail transport,
insulting the train staff,
and may face sizeable a compensation claim for the delays he caused, police said.
"He was full of remorse when I talked to him,

And he advised others not to try the same thing."
Canadian trucker fined for smoking on the job

– A Canadian truck driver has been fined
for smoking in his vehicle because it is considered his workplace,
a police spokeswoman said on Friday.
A police officer saw the 48-year-old trucker driving on a highway
in southwestern Ontario with a cigarette in his mouth on Wednesday,
and gave him a C$305 ($290) ticket.
The Smoke-Free Ontario Act, adopted in 2006,
prohibits smoking in an enclosed workplace or enclosed public area,
and that extends to work vehicles,
said Constable Shawna Coulter of the Ontario Provincial Police in Essex County.
"We enforce the legislation and this truck driver was in violation of that," she said.

Thats just to much
Aaron Calls BULLSHIT and i dont smoke

Intoxicated 21-year-old takes ambulance in Kansas
Police in the Kansas college town of Lawrence say they have
arrested a 21-year-old man who stole an ambulance
to get home after a night of drinking.
Lawrence Police Sgt. Susan Hadl says
the ambulance crew parked it early Sunday
while responding to a medical emergency
in an area filled with bars and specialty shops.
Hadl says the man was intoxicated and believed
he had no other way home.

He led police on a brief, low-speed chase.
The man was arrested on charges of theft
of the ambulance as well as driving under the influence.
AP
Drunk Darth Vader's Jedi assault
Arwel Wynne Hughes, 27, from Holyhead, Anglesey, admitted assaulting Barney Jones and cousin Michael with a metal crutch. They suffered minor injuries. Hughes, who was drunk and dressed in a black bin bag, shouted "Darth Vader!" The cousins had been filming themselves playing with light sabres in the garden before the attack. Hughes admitted two charges of common assault. The court was told he had a "chronic alcohol problem" and had drunk the best part of a 10-litre box of wine. Mrs Lloyd said: "He was wearing a black bin bag and a cape and had a metal crutch in his hand." Hughes hit Barney Jones over the head with the crutch, leaving him with a headache, before laughing and hitting Michael Jones in the thigh, causing bruising. Hughes could not remember the incident and only realised what had happened when he read about it in local newspapers, the court was told. Defending, Frances Jones, said alcohol was "ruining his life" and he had no idea where he got the crutch from. The judge warned Hughes that jail remained a possibility, before adjourning for pre-sentence reports until 13 May.
BBC.co.uk

Cowboy cited after horse wanders away from bar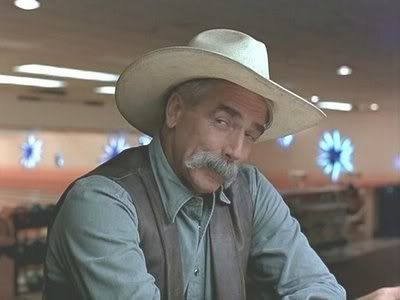 WORLAND, Wyo. – A northwestern Wyoming man
received a citation for letting his horse wander in Worland,
but not before he complained to town law enforcement officials

about the absence of a hitching post in front of the local saloon.
William Schellinger was cited by Washakie County law enforcement

officers for allowing his horse to run at large in this city
along the Big Horn River.
Schellinger was apparently in a bar early Sunday
when his horse wandered away,
prompting police to follow it to make sure it didn't
cause an accident with a car.
After being confronted by officers,
Schellinger contended the city didn't have any hitching posts

and told them they should spend their time arresting real criminals,
not bothering cowboys with wayward horses.
Thief takes 11 cases of beer in just two trips
BATON ROUGE, La. – East Baton Rouge Parish

sheriff's detectives are looking for a man who stole 11 cases of beer
from a convenience store — and only went in twice.
A news release said the man grabbed six cases of Bud Light
and one of Budweiser about 11 p.m. Sunday,
put it in his car and went in for more.
The statement released Monday said the man then grabbed
two more cases of each.
After loading that into his gold Mercury or Crown Victoria, he took off.