Wednesday, September 2, 2009 at 12:38AM
ANNOUNCEMENTS

- Beers
- Today is the 400th Anniversary of Galileo's telescope.
- Episode 70 I would like to get Everyone on the show: I.E. Scott, Chris, Aaron, Jason, Nate, Ric. We've never done that before.
- Best Buy Update... Online apposed to In store trade in


TECH



Psystar wants judge to force Phil Schiller to
explain how clones injure Apple
August 20, 2009 01:30 PM ET



The Mac clone maker battling with Apple over
copyright infringement allegations complained to a federal judge
last Tuesday that a top Apple executive was "unprepared" and "unwilling to testify"
during a recent deposition.
Lawyers for Psystar told U.S. District Court Judge William Alsup
that Philip Schiller, Apple's senior vice president of marketing,
"appeared at his deposition wholly unprepared and unwilling to testify"
on the subject of how Apple was damaged by the clone maker's
practice of installing Mac OS X on Psystar's computers.
A letter claimed Apple had promised Schiller would testify to the
"the injury suffered by Apple as a result of the allegedly unlawful acts
which Apple complains about in this action, and the injury that Apple
is likely to suffer if these acts continue,
including but not limited to the amount and manner of calculation of any lost profits."
Although Apple reportedly objected to the topic on a variety of grounds,
the company eventually agreed to make a witness available, and assigned Schiller the job.
"Nowhere in [Apple's] objection or in any other correspondence or communications
between counsel did Apple take the position that the topic was limited to irreparable injury
or even that Mr. Schiller's testimony would be limited to irreparable injury,"
a letter describing the testimony claimed.
Psystar's lawyers asked Alsup to force Apple to "properly prepare Mr. Schiller for his deposition"
and require Schiller to continue his deposition at their Houston, Texas office within the next two weeks.
Apple and Psystar have been waging legal warfare in federal court since July 2008,
when Apple sued Psystar over copyright infringement and software licensing charges.
The case is currently scheduled to reach trial Jan. 11, 2010.
Report: Steve Jobs concentrating on tablet
Apple CEO Steve Jobs has been focusing intensely on a tablet device since returning to work in June,
according to The Wall Street Journal. Jobs, who came back following a liver transplant and six-month
medical leave, is overseeing every aspect of the new tablet, especially its advertising and marketing
strategy, the Journal said Tuesday.
Jobs' attention to the tablet is a sign of how important the new device is to Apple, the Journal said.

Since unveiling the iPhone in 2007, the company hasn't released a new product category, choosing

instead to enhance its existing line of MacBooks, iPods, and iPhones.
A tablet has been in the works for some time. Apple was granted a patent on such a device last year.

But the design process apparently hasn't been a smooth one. Jobs halted the project twice, once because

of poor battery life and again because of insufficient memory, a person familiar with the matter told the Journal.
Cnet
SCIENCE
What Your Facial Hair Really Says About You

Your facial hair (or lack thereof) can say a lot about you, but sometimes there's a
difference between what you think you're saying with it, and what it's actually telling people.
HolyTaco.com




VIDEO GAMES

Turning Rehab into Wii-hab

Sometimes, something can be both good for you and run. Dr. Brumels '88 of the Hope athletic training staff had an intuitive sense and a fir bit of anecdotal evidence that popular activity-based video games like Dance Dance Revolution and the Wii Fit Balance Board programs could play a positive role in helping athletes with balance rehabilitation, but he hadn't located any hard data to support the notion.
So, this past fall he and a team of student researchers tackled the topic themselves. They conducted a study, published in the winter 2008 edition of Clinical Kinesiology, that found that such games offered the best of both worlds: they were more effective than traditional rehabilitation tools and the athletes enjoyed them more.
Ironically - or, rather, perhaps because the athletes were enjoying using the activities- participants in the study also believed that the games were less difficult than the traditional tools even as they were more effective.
"They perceived it as easier, yet the data suggested that it was as effective as, if not more effective than, the other exercises," said Dr. Brumels, who is an associate professor of kinesiology, program director of the athletic training education program and an assistant athletic trainer.
Dr. Brumels was inspited to start using the games a few years ago, when his daughter showed him her new Dance Dance Revolution. "I thought, 'Oh, my, this has a ton of application in the athletic training world and rehabilitation," he said. The college's athletic training program began using the newly designed Wii system more recently. He recognizes that the video game balance programs such as Ski Slalom, Table Tilt and Balance Bubble are much more interesting than the traditional balance exercise programs which involve standing on a variety of stable and unstable surfaces, maybe interacting with a ball or other object, in the training room. Junior Sophie Hartman of Plainwell, Mich., has appreciated the system as she has been rehablitating her ankle following an injury sustained during this past soccer season. "Working with other athletes that are rehabilitating as well, it provides a fun competition," said Hartman, who is herself an athletic training major. "I think it provides an energy to rehab," she said. "It makes it easier to go to - not necessarily that the task is easier, but it makes it easier to go to rehab." We've had incredible compliance with the athletes on it," Dr. Brumels said. "As long as it's fun, and they're doing it and its beneficial to them, that's what we want." The four week Hope study involved 25 athletes who were asked to rate their experience with the three systems between one and five according to difficulty, engagement, and enjoyability. While the traditional methods earned a relatively low 2.17 for enjoyability, and a 3.33 for engagement, DDR earned 4.14 in both categories and Wii Fit earned 4.40 in each. The traditional methods rated 3.17 out of 5 for difficulty, while DDR and Wii Fit weighed in as easier at 2.71 and 1.60. Especially significant to Dr. Brumels was the finding that athletes who had used DDR and Wii Fit showed greater improvement in Balance as measured by force plate testing following their month long rehabilitation experience. It was an added bonus that the exercised were perceived as easier and more enjoyable by the participants. Even as the participants in the study worked on their balance through the barious rehabilitation methods, other students learned through the research process itself. Dr. Brumels conducted the study and co-authored the paper during the recent fall semester with four Hope senior athletic training or exercise science majors: Troy Blasius, Tyler Cortright, Daniel Oumedian, and Brent Solberg. "They were intimately involved in the literature review, the study design, the implimentation of it and the data collection and analysis," he said.

This article re-produced from the Hope Alumni Magazine.

MOVIE NEWS
James Cameron's Avatar Teaser Trailer Released
discuss


zombie diaries
BOOOOOOOOOOOOOOOOOOOOOOOOOO!
DO NOT RENT!!!!!!!!!!

ODD NEWS


"Putpockets" give a little extra cash
LONDON (Reuters) – Visitors to London
always have to be on the look out for pickpockets,
but now there's another, more positive phenomenon on the loose
-- putpockets.
Aware that people are suffering in the economic crisis,
20 former pickpockets have turned over a new leaf and are now
trawling London's tourist sites slipping money back into unsuspecting pockets.
Anything from 5 pounds ($8) to 20 pound notes is being surreptitiously deposited
in unguarded pockets or open handbags in Trafalgar Square,
Covent Garden and other busy spots.
The initiative, which runs until the end of August
in London before being rolled out countrywide,
is being funded by a broadbrand provider, which says it wants to
brighten up people's lives in unusual ways.
"It feels good to give something back for a change
-- and Britons certainly need it in the current economic climate," said Chris Fitch,
a former pickpocket who now heads TalkTalk's putpocketing initiative.
"Every time I put money back in someone's pocket, I feel less guilty about the fact
I spent many years taking it out."
London's police have been briefed about the plan,
which will see at least 100,000 pounds given away.
German Lego giraffe tail repeatedly stolen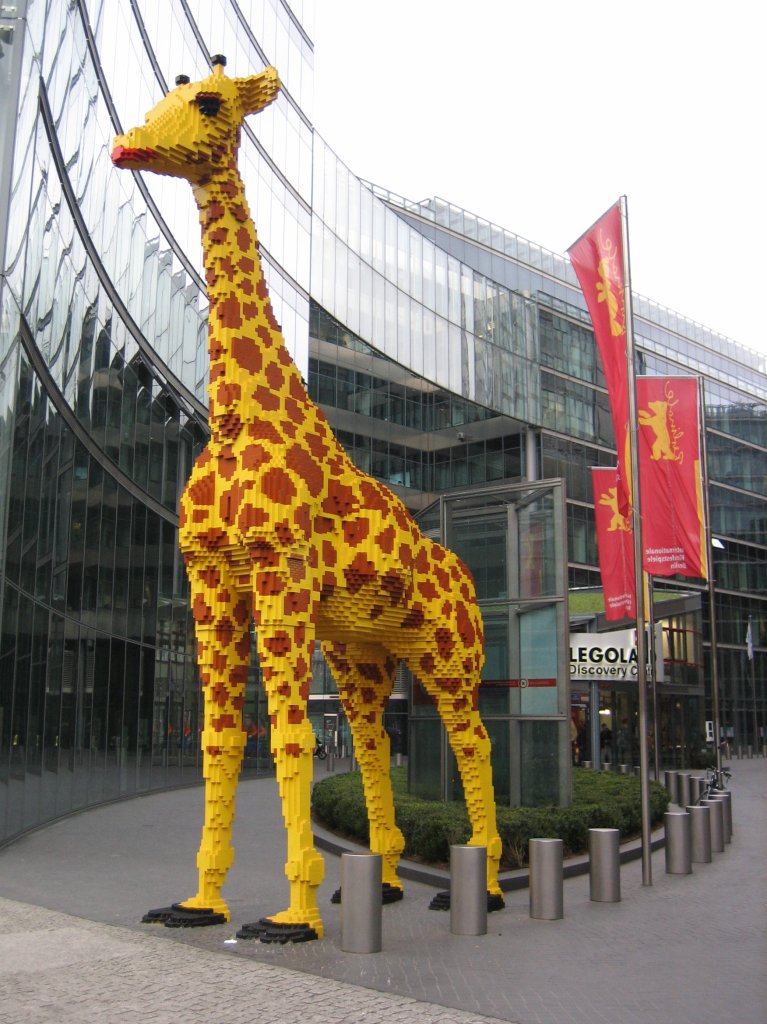 BERLIN (Reuters) – Visitors to a tourist attraction in Berlin
have been making off with an unusual memento --
the 30 cm long tail of a Lego giraffe.
The Lego tail belongs to a six metre tall model that has stood outside the entrance
to the Legoland Discovery Centre on Potsdamer Platz since 2007.
"It's a popular souvenir," a spokeswoman for the centre said on Tuesday.
"It's been stolen four times now ..."
The tail is made out of 15,000 Lego bricks. It takes model workers
about one week to restore it at a cost of 3,000 euros ($4,300), the spokeswoman said.
Papa John's founder finds his beloved 1971 Camaro
LOUISVILLE, Ky. – The founder of the Papa John's pizza chain
has finally reunited with the muscle car he sold years ago
to help keep his family's business afloat.
John Schnatter sold the gold-and-black 1971 Chevrolet Camaro Z28
for $2,800 in 1983. The money helped save his father's tavern in Jeffersonville, Ind.
, and he used the rest to start what would become a worldwide pizza business.
But he still missed his beloved Camaro and spent years searching for it.
He created a Web site on the search, held promotional appearances
and eventually offered $250,000 to whoever found it.
It turns out he didn't have to leave Kentucky, where the pizza chain is based in Louisville.
The car only changed hands twice from the original buyers,
ending up with Jeffery Robinson in Flatwoods, about 165 miles to the east.
The original buyers of Schnatter's car heard about the search when he appeared
in a TV interview before an NFL game this month.
An online search led them to the car blog Jalopnik, which tipped off Papa John's.
Robinson recently delivered the Camaro to Schnatter, earning the $250,000 reward.
The original buyers will also get $25,000 for their help tracking it down.
Schnatter told The Associated Press that seeing the car "kind of hit me emotionally.
" He says it looks very much the same as it did when he sold it in 1983.
In honor of the reunion, Papa John's planned to offer all Camaro owners a free pizza on Wednesday.
Police say speeder claimed to be CIA official
MOUNT CARMEL, Tenn. – Police in northeast Tennessee
say Scott Gibson isn't the deputy director of the CIA —
and he'd have to pay his $75 speeding fine even if he were.
On June 29, a Mount Carmel speed camera clocked the 56-year-old
Rogersville resident going 66 mph in a 55 mph zone. He was sent a ticket.
Assistant Police Chief Mike Campbell says Gibson mailed back
a copy of the citation with a handwritten note,
claiming he wasn't subject to local speed zones because
he was the deputy chief of the CIA.
The federal agency told police Gibson never had been an employee.
Gibson was arrested for criminal impersonation and released on $500 bond.
Campbell says federal charges are also pending.
A telephone listing for Gibson did not take incoming calls.


McDonald's Has a Website for Black People. WTF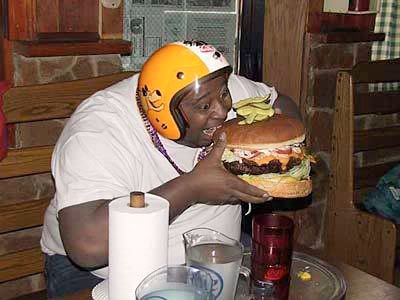 Scott
|
Post a Comment
|