Monday, February 2, 2009 at 12:52AM
TECH $2k for a super snowboard? We're listening?
Cheetah Ultra Sports has spent the last four years kicking up the "Lamborghini of snowboards." The F-117 is a streamlined snowboard that is high on style and resembles the Tumbler from Batman Begins. It has a hole that runs through the center of the board (making it more like two skis attached at the ends) which Cheetah says is there to reduce drag. The elevated bindings make it sit a little high as well placing the weight directly on the edges (which it has plenty of). The company also says to avoid heavy powder with this one (not a good selling point). gizmodo



Skype up for sale? Is Google interested?

eBay must be having the buyers remorse lately as the online auction company is said to be looking to dump their $2.6bn 2005 investment in VoIP program Skype on someone else. eBay revenue is down 7 percent and might be looking to lighten the financial load. Rumors have been around since Nov. 2007 that Google was interested in the program. The Times also reported that eBay chief executive finds that "synergies between Skypeandthe other parts of our portfolio are minimal" and that US telcos could be interested. I wouldn't mind the merger between Google & Skype despite my displeasure with Google docs formatting. Discuss. techradar



Senate OKs 4-month delay to digital TV changeover



WASHINGTON (AP) -- The Senate on Monday voted unanimously to postpone the upcoming
transition from analog to digital television broadcasting by four months to June 12 - setting
the stage for Congress to pass the proposal as early as Tuesday.
The Nielsen Co. estimates that more than 6.5 million U.S. households that rely on analog
television sets to pick up over-the-air broadcast signals could see their TV sets go dark next
month if the transition is not postponed.
President Barack Obama earlier this month called for the transition date to be postponed after
the Commerce Department hit a $1.34 billion funding limit for government coupons that consumers
may use to help pay for digital TV converter boxes.
Senate Commerce Committee Chairman Jay Rockefeller managed to ease some of these concerns by
allowing broadcast stations to make the switch from analog to digital signals sooner than the June
deadline if they choose
AP

GAMES
Final Fantasy XIII gets trailer, effeminate male characters to follow

After the FFXIII countdown came to an end Square Enix decided to do Final Fantasy Fans a favor and release at trailer for the much hyped upcoming game. The trailer was released worldwide with actual gameplay (a feature that was not present in the exclusive Tokyo Game Show presentations last year. Even though I am far from excited about the world of FF I was quite interested in the impressive looking game play. Let's just hope an overwhelmingly confusing menu system and a squad of androgynous male pop star characters don't ruin the good buzz I got goin'. FFXIII scheduled for release in 2010. joystiq

Hiller beats Fieldrunners' Grasslands Level 100 on hard

No real story, just way happy that I finally did it. Now how about some new levels FR devs?
Science
It's snowing on Mars ...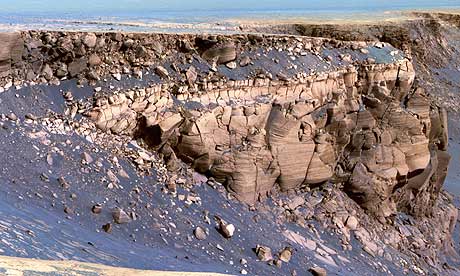 High in the sky above Mars, it is snowing right now. Very gently snowing. The snow does not settle
on the rubble-strewn land below - not these days, anyway - but instead vaporises into the thin
atmosphere long before it reaches the ground.
The first flakes of snow, on a planet that until fairly recently was believed to be waterless, were spotted
just a few months ago. A Nasa lander near the planet's north pole was scanning the sky with a laser
when it noticed the telltale signs of snowfall. The probe, called Phoenix, announced the news in a radio
signal that was picked up by an overhead orbiter and beamed back to Earth. Nothing like it had ever
been seen before.
AUTOS
The Stig is Ben Collins


Who is "The Stig?" It's Ben Collins! But wait, who is Ben Collins? More importantly,
how was he outed at an art gallery? For starters, Ben Collins is James Bond's stunt double
from the recent 007 thriller Quantum of Solace. As to how he was outed, well, It seems Collins
revealed his secret identity to a Bristol art gallery owner in order to commission an artwork
commemorating his exploits on Top Gear. In 2002, Perry McCarthy revealed he was the black Stig,
prompting his firing from the series. It's believed that Collins could now suffer a similar fate.

Collins' non-secret driving credentials are beyond reproach: he's raced in Formula 3, NASCAR and
Le Mans, as well as providing stunt driving services for television and movie production.

last year a builder discovered a white racing suit and helmet while working on Collins' home.
The BBC has declined to comment saying, "We never comment on speculation as to who or
what The Stig is."



MOVIES
Review on the Wrestler: See it twice is my rating on it. Oscar Nominations, Picks challenge for the crew. Announce this week and pick for next week?


OSCAR SHOTS GAME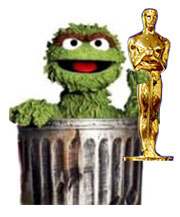 Game Rules:
-We each pick our winner for each category.
-If your pick isn't the winner then do a shot.
-The person(s) with the lowest matches automatically must do shot.
-At end of game the person(s) with the most wins overall gets to dish out a shot -Anyone goes perfect all others drink 2 shots.

Tanked Offical Oscar Picks
Best Actor
Richard Jenkins, "The Visitor"
Frank Langella, "Frost/Nixon"CH, AV
Sean Penn, "Milk" NB
Brad Pitt, "The Curious Case of Benjamin Button"
Mickey Rourke, "The Wrestler" RM, SC,

Best Picture
Frost/Nixon AV
Ben Button
Milk SC
The Reader NB
Slumdog Millionair CH, RM

Best Supporting Actor
Josh Brolin, "Milk"
Robert Downey, Jr., "Tropic Thunder" SC,
Philip Seymour Hoffman, "Doubt"
Heath Ledger, "The Dark Knight" RM, AV, CH, NB
Michael Shannon, "revolutionary Road"

Best Actress
Anne Hathaway, "Rachel Getting Married" RM
Angelina Jolie, "Changeling"
Melissa Leo, "Frozen River" NB
Meryl Streep, "Doubt"AV, SC
Kate Winslet, "The Reader"CH,

Best Supporting Actress
Amy Adams, "Doubt" NB
Penelope Cruz, Vicky Chrisina Barcelona"
Viola Davis, "Doubt" SC
Taraji P. Henson, "Ben Buttons" AV
Marisa Tomei, The Wrestler" RM, CH
Fla. couple pick up their cloned yellow lab puppy
MIAMI – A Boca Raton couple got a new dog, and it's just like their old dog. Not just the same breed and gender, but the same DNA. Nina and Edgar Otto picked up their cloned yellow lab puppy at the Miami International Airport Monday night. Lancelot Encore was cloned from the DNA of the Ottos' late dog Lancelot, which died of cancer in January 2008.
Guessing that pet cloning would one day be possible, the Ottos had DNA samples of their dog frozen five years ago.
The Ottos paid $155,000 in a San Francisco biotech firm's dog-cloning auction last July.
BioArts International created Lancelot Encore in South Korea, where he was born 10 weeks ago. The Ottos say he's the first single-birth, commercially cloned puppy in the United States.
Man smears feces on his lawyer, flings it at jury
SAN DIEGO – A San Diego judge has declared a mistrial in a kidnapping and assault case after the defendant smeared excrement on his lawyer's face and threw it at jurors. The judge boosted defendant Weusi McGowan's bail from $250,000 to $1 million after the Monday incident.
Prosecutor Christopher Lawson says McGowan was upset because the judge refused to remove public defender Jeffrey Martin from the case.
McGowan had smuggled a bag of feces into court and spread it on Martin's hair and face before flinging the excrement at jurors. No jurors were hit.
McGowan has pleaded not guilty to kidnapping for robbery, assault with a deadly weapon and other counts in connection with a 2007 home invasion.
Pizzeria owner accused of beating man over calzone
PALM COAST, Fla. – Flagler County authorities said a restaurant owner pistol-whipped and beat a customer who complained that his takeout order was incorrect. The owner of Goomba's Pizzeria was charged with aggravated assault and battery with a deadly weapon and released on bail.
According to a police report, security footage from the pizzeria shows that the owner struck the customer with a gun. He then jumped over a counter and started to assault the customer and his roommate.
The customer was at the pizzeria to collect a refund for a calzone, which he said was prepared incorrectly. He was taken to a hospital after the incident with a bloodied head.
Scott
|
Post a Comment
|