Monday, January 19, 2009 at 11:01PM
NEW STUFF
Spider-Man meets Obama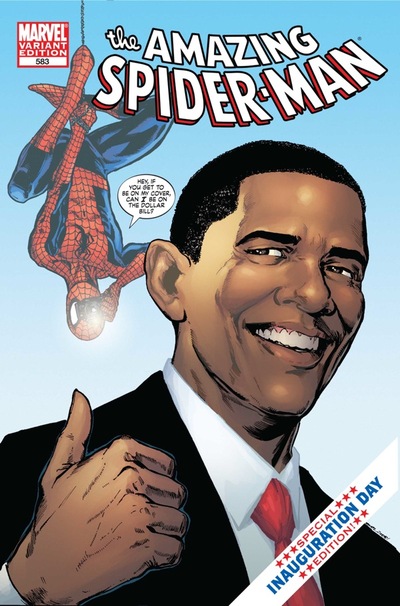 President-elect Barack Obama is a big Spider-Man fan and Marvel knows it. Marvel Editor-in-Chief Joe Quesada said "When we heard that President-
Elect Obama is a collector of Spider-Man comics, we knew that these two historic figures had to meet in our comics' Marvel Universe." The two meet
up in The Amazing Spider-Man #583 which came out today. The issue features Spider-Man thwarting the Chameleon's plot to screw up Obama's
inauguration, Obama giving the web slinger respect knuckles and has Spidey poke a few jokes at Joe Biden. Hiller went down to the local comic book
store to pick up a copy only to find out thatthe issue rapidly sold out. Let's hope Obama got his hands on one.
Subway ads get exposed, PhotoShop style

"Graffiti" artists in Berlin have taken their creative rage out on a series of retouched model laiden subway ad by posting large prints of PhotoShop
palettes& menus over them. The palletes indicate color correction, shape arrangement & expectedly heavy use of the healing brush & clone stamp. gizmodo

TECH
Star Wars brain toy teaches you that there is no spoon

Mattel sure has come a ways in Stars Wars merch since their rivals Kenner introduced those figures back in the day. The Force Trainer, toy due thisfall from the company, lets you manipulate a sphere inside of a 10" plastic tube using a headset that reads the user's brain waves. The wave reader is a simplified version of the EEG medical tests used today. Mattel plans to use the brain wave technology in future toys such as a Mind Flex game (also coming out in the fall). USA Today
Psystar: Hitting New Low
The Florida clone maker was allowed to amend its claims against Apple to include other
arguments. It has already suggested that Apple is abusing its copyright on the operating
system, and now it plans to argue that since Psystar legally purchased its copies of Mac
OS X from Apple and resellers, it has the right to do basically whatever it wants with
that software under the first-sale doctrine.
Computerworld spotted court filings to that effect submitted by Psystar last week.
Here's a key passage: "Psystar acquired lawful copies of the Mac OS from Apple; those
copies were lawfully acquired from authorized distributors including some directly from
Apple; Psystar paid good and valuable consideration for those copies; Psystar disposed
of those lawfully acquired copies to third-parties."
The problem with this argument is that

courts have rarely agreed that the first-sale doctrine applies to software, considering
software a product that is licensed, not sold, and can therefore have restrictions attached.
Apple and Psystar are scheduled to meet next week to discuss the case and the latest
arguments.
TRy
Cnet





SCIENCE
3 Cups of Coffee Increases Hallucinations
PearsSoap writes
"The Telegraph and other sources are pointing out a study on 200
students which has found that a high caffeine intake can cause visual and auditory hallucinations,
and can make people think that others are 'out to get them.' The abstract (and full version if you
have access) is available. 'The volunteers were questioned about their caffeine intake from products
including coffee, tea, energy drinks, chocolate bars and caffeine tablets.'"
Slashdot





AUTOS

Ford kicks out two potentially horrific tech demos

MyKey Does the idea of screwing with your child's limitations with the family auto give you a nice snuggly safe feeling? Well then check out MyKey. Starting in 2010 with the Focus coupe, MyKey will allow parents to place limits such as speed limiting, radio volume limits, chime at 45, 55, 65 mph, and turn off the radio when seatbelts are not fastened. Hope that speed limit thing comes in handy when child needs to speed to the hospital. autoblog

Park Assist Even though Lexus beat them to the game in 2007 with the LS460, Ford is stirring up the media for it's Park Assist technology. Ford gives a demo that lives up to what it's supposed to do: get into parallel parking position, engage park assist, shift into reverse/drive when prompted and brake when told to. The demo looked to work well with a decidedly wide parking spot but good lucky trying to get that spot outside of Hiller's apt where bumper to bumper scratch 'em ups are guaranteed. autoblog


Lincoln concepts compact with....bench seats?
Who would have thought that luxury auto company Lincoln would debut a compact concept

at the 09 Detroit Auto Show? Now I'm usually not the biggest one for concepts but it directly

juxtaposes all that I have come to expect from Lincoln: it's stylish with it's split grill and openly

windowed exterior, full length rear tail light (ala Grand Marquis), internally mounted brake calipers,

and the interior is surprisingly minimal with bench seating. Bench seating? In a Lincoln?

More cool stuff likethis and I may forgive them for the that whole Mark LT
thingy they're trying to pull off.
The BYD E6: 250 Miles Per Charge Electric Car

BYD Auto debuted their E6 full-electric crossover, reportedly capable of a 250-mile trip on just one
full charge, putting it ahead of any electric car for sale or announced. We'll probably never see it.
The E6 features a far more advanced exterior design than most of BYD's models and, in pure
electric mode, can carry five passengers an estimated 249 miles. By comparison, Ford's long-range
electric car planned for 2011 goes 100 miles on a single charge. Like a conventional electric car, it can
juice up in approximately eight hours with a conventional charge. With a high-capacity power charger
it will be able to achieve a full charge in three hours. Amazingly, at a fast-charge station the car can
quick-charge to 50% in ten minutes, allowing someone to travel an estimated 120 miles.
The BYD battery pack is capable of producing at minimum approximately 101 HP but, with a full battery
pack and larger motor, an estimated 269 HP. The full configuration will, according to the company, propel
the vehicle to 60 MPH in less than eight seconds with a top speed of approximately 100 MPH.
The E6 concept remains a concept, though one BYD seems intent on producing.


ODD NEWS



Fla. sheriff seeks portly 'ninja' in theft attempt

A.P.
WEST PALM BEACH, Fla. – A ninja, or at least someone dressed like one, is lurking in the shadows of Palm Beach County.
The Palm Beach County Sheriff's Office says a heavyset man with a visible potbelly and a ninja costume unsuccessfully tried to steal two different ATMs over the past two weeks.
Security video from the automated teller machines showed the unidentified man dressed in a black ninja outfit with a hood that showed only his eyes.
Authorities say the first attempt was made at a bank on Dec. 29 and the second at a Walgreens on Tuesday. Authorities did not say how the man tried to steal the machines.
Police say masked man waited in line to rob bank

A.P.
STOW, Ohio – A man may have tipped his intentions when he stood in line at an Ohio bank wearing a ski mask before staging a holdup. Police in Stow near Akron say 24-year-old Feliks Goldshtein of Highland Heights was arrested minutes later on Thursday following a brief car chase.
Police say the teller asked the man to take off the mask before being served. At that point the man displayed what turned out to be a toy gun and told the teller to give him all the money. He made off with an undisclosed amount.
Police Captain Rick Myers says it's unusual for a masked robber to wait in line at a bank.
Goldshtein was held at the Summit County Jail Friday on charges of aggravated robbery and failure to comply with a police order. Municipal Court records don't identify an attorney for Goldshtein.





MOVIES Teaser Poster for Transformers 2: revenge of the Fallen. This makes me wana see the movie even that much more.

(not the teaser but here is Sideswipe)
Rumor of the teaser for movie to be ready for super bowl game.
http://www.aintitcool.com/images2008/BigTrannie2.jpg This is the Hasbro toy release for Sideswipe. car looks cool and pic looks good too. http://www.comingsoon.net/news/movienews.php?id=51862 Is it time to Scream again??? Scream 4 has been green light. what we know is this. Kevin Williams is writing. Wes Cravin may or may not direct. Cameo's for David Arquett Courtney Cox and Neve Campbell may or may not happen. Sounds like this movie is a long way off. It will be a younger adaptation of the story. Won't focus around the original cast. So fan of the original scream???? this could or could not be as good. A bit of a laugh for me. Chan to teach Smith: Jackie Chan to take over the Pat moritia Roll in the New Karate Kid Remake. Jaden Smith will star as the student. Movie will be shot 100% in China.
Scott
|
Post a Comment
|