Monday, January 12, 2009 at 7:43PM
ANNOUNCEMENTS
- Happy New Year! How was everyones New Year Party?
- Beers
- Ric will be calling in, half-way through the show. No movie this week. But news


TECH
Macworld goes out with a Phil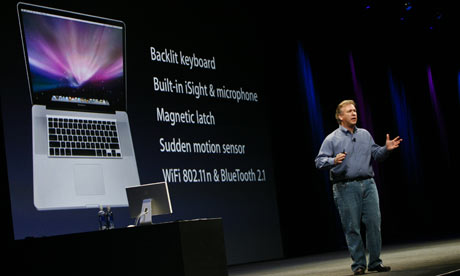 Macworld 09 will most likely be the last Macworld. Steve Jobs was absent due to a recently revealed hormonal problem that he is facing which is causing a rapid deterioration of his health. Good thing fun loving Apple Senior VP Phil Schiller was there to bring things to a close.
iLife '09
iPhoto
- Faces. iPhoto will do facial recognition with people you select in all your photos in events.
- Places. iPhoto will use GPS tracking to lock down the coordinates where photos where taken and
give you a map and pins to show you where your pics where taken. - Impressive new slide show stuff. Export to iPhone.

iMovie
- Improved clip drag-and-drop interface.
- Pre and post edit point adjustment. - Animated travel maps. - Improves on the suck-age of the last iMovie. Hopes to get people to finally transition from iMovie HD. - Still no option for multi-cam editing.fuuuuuuck!
GarageBand
- Music instruction from music teachers and famous musicians.
iWork '09
- New stuff. Yay.

17" Macbook Pro - static battery edition
- Aluminum unibody that Apple won't shut up about. - Static 8 HOUR battery. - LED is finally here for the 17" MBP. - Goodbye Firewire 800 for Apple laptops. - $50 charge for matte screen?!!!!
iTunes
- DRM lifted for 8 million songs. - Hope to be DRM free in the future. - 69 cent - $1.29 pricing to keep the music biz happy.



Keyboard-less MacBook revolutionizes computers

New MacBooks have no keyboard...only giant click wheel
TheOnion.com




VIDEO GAMES
Overall VGChartz Game of the Year Awards 2008


And the Trophies go to...There is too many to list so visit the damn link.
VGchartz.com


Playstation Home Finally Hits... Home... in Beta?
Scott Sends The Beta Through It's Hoops

So as of Dec 11 Sony opened it's doors to the once closed, invite only public beta
of PlayStation Home. Like we mentioned in previous episodes, PlayStation Home is
a Second Life for PS3 owners. Where users are represented by avatars that move
through a virtual space that includes your very own apartment, stores and meeting
areas like Clubs, Arcades, Bowling and Pool halls. You can even dance! (yippy)

Unlike the Nintedo's Mii's and the 360's avatars, PS3 owners can really play around
with how their avatars with look. Basically there is no reason that you couldn't make
the avatar look like yourself. It's practically limitless.

With that said. After playing with it for a few hours i got to talk to other people by
sending messages back and forth (while dancing) and we all came up with the same
conclusion, yes it's very cool...and very boring. The only reason to visit PS Home is
for the bowling and that isn't even that great.
(won my very first game witch is odd cuz i suck in real life)

In conclusion: I can see where they want to go with this and it wouldn't even be a
stretch to say this might be the next big thing. It could be a nice meet-up point for
you and some friends to all hop in a game like Little Big Planet, heck even Microsoft
is looking at using Home as a business tool, but there is nothing to fucking do there
but to play bowling and dance like a retard as you text total strangers.
Really, what do you want it's a damn beta...i.e. not finished=nothing to do there=total boredom.
Then again, this might just save the PS3.
-Scott
TankedPodcast.com

Tanked Reviews Playstation 3 Keyboard Controller

Ever want to join in on texting fun in multiplayer online games? well now
you can without lugging your full size keyboard around. Sony has released
a full QWERTY keyboard that simply clips on to the controller. The fantastically
simple gadget hangs off the top of the controller and does not restrict game play
what so ever and weighing in at a measly .06 grams you won't even know it's there.
The PS3 wireless keyboard works by means of blue-tooth and has a built in battery
pack that some users are saying are getting over 2 weeks of playability with one charge.
You can charge it by plugging it in via usb(the same as the controllers). Features include a range of shortcut buttons for quick access to Communication
and Message-box and with one click of the touch button will turn the entire surface
of the keyboard into bumpy and odd touch-pad for moving cursors and browsing the web. Released on Dec. 28 this little guy will set you back $50 I give it a 4.5/5 Because the buttons are quite small. TankedPodcast.com
EGM to shut down

The rumors are now fact, Ziff Davis has sold the 1-Up network to it's competitor
Hearst. Hearst is big in the news biz and has a piece of ESPN, The History Channel
& UGO.com. Now I don't care too much about the 1-Up network but this transition is
going to leave longstanding gaming magazineElectronic Gaming Monthly to die.
Being a fan of EGM for the nearly 20 years it has been in print (I still remember the
first issue's cover) I have to stand forward and say this really sucks.
Adding in that I just renewed my subscription two months ago I can say that this
REALLY REALLY sucks. I have long said goodbye to staples of the publication like
Sushi X, the mysterious ninja gamer but seeing EGM die off puts a chilly forecast
on the future of gaming magazines. RIP EGM, you've had a good run. kotaku




SCIENCE
Green Algae Bloom Process Could Stop Global
Warming


The researchers, aboard the Royal Navy's HMS Endurance, have found that melting icebergs
off the coast of Antarctica are releasing millions of tiny particles of iron into the southern Ocean,
helping to create huge 'blooms' of algae that absorb carbon emissions. The algae then sinks to
the icy depths, effectively removing CO2 from the atmosphere for hundreds of years.
The team will seek to create a massive algae bloom by releasing several tons of iron sulphate into
the sea off the coast of the British island of South Georgia. The patch will apparently be large enough
to be visible from space.
If successful, the technique could be rolled out across vast swathes of the Great Southern Ocean.
Scientists calculate that if the whole 20 million square miles was treated, it could remove up to three
and a half Gigatons of C02, equivalent to one eighth of all global annual emissions from fossil fuels.
CleanTechnica.com




MOVIES
Rics Movie News & Reviews
- New Street fighter poster release. Not good. But who knows. http://www.slashfilm.com/2009/01/04/worst-poster-ever-street-fighter-the-legend-of-chun-li/ - Hasbro talking about a Hot wheels movie. LOL wow really. I have no urge to give
Hasbro more money then I already did as a kid Butthislink has a great picture on it. http://www.joblo.com/hot-wheels-movie - top movies we will wana see in 09: 1 Watchmen, 2 Transformers 2, 3. Wolverine,
4. Terminator Salvation, 5. Sherlock Holmes, 6.
GI Joe rise of cobra, 7 Wolfman. not the exact list my adaptaion of the top 10. http://www.joblo.com/top-20-of-2009




ODD NEWS
Worst Movie Actor Names...Ever!


Australian police hunt blow-up doll sex bandit
SYDNEY (Reuters) – An Australian man broke into three adult shops, had sex with blow up
dolls named "Jungle Jane" and then dumped his plastic conquests in a nearby alley, local
media reported on Wednesday.
"It's totally bizarre. It's a real concern that someone like that is out on the street," said one
of the owners of the adult sex shops in Cairns in northern Queensland state. "He has been
taking the dolls out the back and blowing them up and using the dolls and leaving them in
the alley," the owner, who gave the name of Vogue, told the Cairns Post newspaper
Police told the Cairns Post that scientific officers had taken DNA samples, fingerprints and
pictures of the crime scene.
(Reporting by Pauline Askin, Editing by Dean Yates)
CHAPPED ASS
Google Docs Hiller is fucking sick of Google Docs' formattinginconsistencies. Here fucking here -scott


Community Topics

link
Scott
|
Post a Comment
|