Saturday, January 3, 2009 at 12:09AM
Announcements:
- We have a full cast in the studio!!!
- Beers
- Merry Christmas and Happy Kwanza and Happy New Year! how was everyone's christmas?
- Ric will be calling in, half-way through the show, with this weeks tripple Holliday movie review. 3 movies: yes man (see it full price) The Spirit (matine) and Benjermain Button (DVD) How to see 3 movies in 1 day at 1 nice low price. (ill be fast about it) Movies news. Transformer 2 Pics are up online. USA Today
Tech News Section need 2 or 3 more tech topics
Nation's first underwater turbine installed

America's first commercial hydrokinetic turbine was installed into the Mississippi River near Hastings, Minnesota this week. The turbine converts the power from aquatic currents into electricity without the need for a dam. Another turbine is to be installed soon and the combined power of the two is said to benefit a nearby hydroelectric- plant dam with a 5+% power increase. Hydrokinketic turbine manufacturers have sank (pun!) just as much $ on permits for placement of their aquatic dynamos as cost for the actual parts. Mark Stover of Hydro Green Energy claims that aquatic current has "840 or 850 times the energy density of wind." wired

Scott Gets His Hands On Windows 7 Beta Build 7000


Well the Beta was released this week for testers and was also leaked on the major torrent sites, of course.
The good news is that it's fast and stable, so stable in fact that they could release it today and live with it.
There is a new "ribbon" type feature somewhat of a throwback to the Office 2007 ribbon, that's sure to piss
people off. The guys at Redmond seem to be refining and tweaking a version of vista and have
cut the useless crap out of it such as movie maker, messenger, windows mail. Anyone that shameless feel
the need to get these sort of apps will be able to download them via the windows live essential website.
There is also a neat feature called Aero Snap. This alows you to maximize and minimize your windows by
where you drag it.
All in all i feel confident in saying that i am so far somewhat impressed and the development of 7 is
heading in the right direction. Hopefully come next year the PC users can have something to look
forward to....a half-way decent fucking OS.


Enter iFart


Movie Related Section movie section is solid

Rics Weekly Movie News

New film from Tim Burton "9"
*WATCH THIS BEFORE WE RECORD*





This Movie looks as if LittleBigPlanet's Sackboy found himself in the world of Half-Life 2
9 is both written and directed by visionary filmmaker Shane Acker, of two previous animated shorts

The Hangnail and The Astounding Talents of Mr. Grenade. The screenplay was co-written by Acker and
Pamela Pettler (Corpse Bride, Monster House). 9 was first an animated short that debuted in 2005 and
earned an Oscar nomination. Providing their voices for the film are Elijah Wood, John C. Reilly, Jennifer
Connelly, Crispin Glover, Christopher Plummer, and Martin Landau. 9 will arrive in theaters on September 9th.
You can also watch the first 9 trailer in High Definition on Apple
FirstShowing.net


Man Shot for Talking Durring Movie


It has happened to all of us. You're watching a movie at your local multiplex when a couple of people
near you start talking, texting, or even begin yelling at the screen.
You know that feeling — The feeling that something must be done.
Well, 29-year-old James Joseph Cialella Jr went to see David Fincher's The Curious Case of Benjamin Button
at the UA Riverview Stadium 17 movie theater in South Philadelphia on Christmas.
A family seated in front of Cialella began to talk during the film, so he told them to be quiet. But that didn't stop
the younger son from making comments. Joe even threw popcorn angrily at the talkative son, but the talk did not stop.
Cialella became so enraged that he pulled out a Kel-Tec .380-caliber handgun and shot the father in the left arm.
Then what? Did Cialella run for it? Nope. He sat back down in his seat and watched the movie as others ran from
theater. The police were called and arrived shortly after, less than an hour into the film screening. It is too bad that
the shooter didn't at least get to finish the movie before being hauled off to jail. The police confiscated the weapon
and arrested the shooter.
James Joseph Cialella Jr is being charged with attempted murder, aggravated assault, simple assault, recklessly
endangering another person and weapons violations. The unnamed victim was treated at Thomas
Jefferson University Hospital, and is said to be okay.
I say let this be a warning to all you mother fuckers that feel the need to annoy the shit
out of other people durring a movie. YO JOE!
Video Game Section



Odd News Section
Giant snowman rises again


By MARY PEMBERTON

ANCHORAGE, Alaska (AP) - A giant snowman named Snowzilla has mysteriously appeared again this year - despite the city's cease-and-desist order.

For the last three years, Snowzilla - to the delight of some and the chagrin of others - has been a very large feature in Powers' yard.
Someone again built the giant snowman in Billy Powers' front yard in an east Anchorage neighborhood. Snowzilla reappeared before dawn Tuesday.
This year, Snowzilla is estimated to be 25 feet tall. He's wearing a black stovepipe hat and scarf.

"Have you seen him?" Powers asked when reached by telephone at his home, the sound of excited children in the background. "He's handsome."
City officials this year deemed Snowzilla a public nuisance and safety hazard. A cease-and-desist order was issued. The city tacked a public notice on Powers' door.
"I have tried to jump through every goofy hoop they have sent to me. I have never been confrontational and it goes on and on and on and it is so goofy," he said. "Some of it is unfounded, some is just outrageous."
http://www.snowzilla.org


Thief steals broken car
















A russian thief did not get far after he stole a car from a repair shop in southern Moscow without realising the car had no brakes.
When the 24-year-old thief tried to get away with the broken Nissan Primera, he noticed the car had no brakes. After sailing trough a set of traffic lights he smashed into another car.

A Moscow police spokesman said: "He told us he had seen mechanics do a paint job on the car and saw them leave the keys in the ignition so he decided to take his chance."

"But what he didn't know was that the car was also getting new brakes fitted."

The thief was arrested and charged with theft.


Egg-walking man pulls car with ears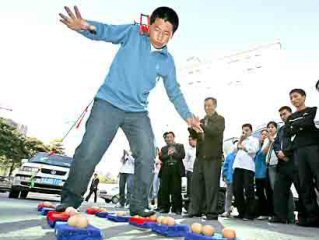 A Chinese man has managed to pull a car while walking on eggs without breaking a single egg.
Not only did he pull the car 20 metres, he actually did it with his ears!

The 38-year-old probably has the strangest talent ever seen, but he sure drew a big crowd while he was pulling the car in Dehui, Jinli.

The onlookers were astonished by the man's performance. Zhang says he started learning the stunt when he was only 8 years old.

Another amazing thing this Chinese can do is pick up a 25 kg bicycle with his mouth while, of course, standing on eggs.

We can't figure out what his talents are good for, but they sure are amazing.



Bad recycling: Pay stub used as bank robbery note
CHICAGO – The robber's threatening note made a Chicago bank job easy to solve: The FBI says the suspect wrote it on his pay stub. An FBI affidavit said the man walked into a Fifth Third Bank on Friday and handed a teller a note that read "Be Quick Be Quit (sic). Give your cash or I'll shoot."
The robber got about $400 but left half of his note. Investigators found the other half outside the bank's front doors. Authorities say that part of the man's October pay stub had his name and address.
The suspect was arrested at his Cary home. A judge ordered him held without bond Monday. If convicted of bank robbery, he faces 20 years in prison.
Scott
|
Post a Comment
|