Friday, December 12, 2008 at 1:33AM
OJ - Murder + Kidnapping +
Armed Robbery = JAIL!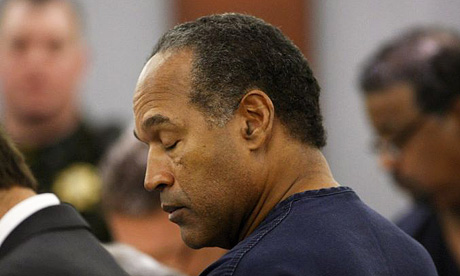 Friday OJ Simpson and his defendant Clarence Stewart were convicted of criminal charges including kidnapping and armed robbery. Simpson and Stewart were sentenced to 15 years in prison for his holdup of two sports memorabiliadealers at the Palace Station casino in Las Vegas last year. Simpson claimed he was getting merchandise that was stolen from him back though claims "I did not mean to hurt anyone." Simpson will be eligible for parole in six years. guardian.co.uk
TiVo launches Netflix streaming for its

Series3 DVRs


I think we talked about the announcement a few weeks ago but Netflicks
has officially penetrated the TiVo market. The idea of a TiVo/Netflix partnership
dates back to September 2004, so this is a long time comin' with that in mind,
Netflicks is one of the busiest companies this year, expanding how people can get their
movies. Just this year they've delivered the availability to download movies via 3
different set top blu-ray players, the roku box and now on all Series3 TiVo DVR's.
Tivo's users can now watch Netflicks 12,000 movies and TV shows
catalog and stream HD content from their, albeit, limited 300 movie selection.
CNET

Turning the iPod Touch into a phone

Apple may have a new mobile phone to compete with--one that runs on its iPod Touch.

Ok here's the deal. You can download Truphone via thier website or on Apple's own
frickin' app store. (lets take bets on when apple shuts that down) Then you get your buddies
to download the app as well. The next time you sync to itunes Truphone will appear on the
Touch. Plug in your headphones with mic or mic adapter and your ready to make FREE calls.
Wait, there's gotta be a catch right? Well there is.
The Truphone application allows users with a Wi-Fi connection to make and receive phone calls
via voice over Internet Protocol, or VoIP, with other iPod Touch owners, users of the Google
Talk's messaging service, and customers of Truphone's Internet telephone service.
The company said it expects to add the ability to handle landline calls.
CNET and Truphone


Ghostbusters the video game gets voicework.
GameTrailers.com posted a much worked on and polished video from the
upcoming Ghostbusters the video game. Plenty of familiar faces and sites
populate the video with the most important part being the inclusion of voice
work from the original Ghostbusters cast. It's eerie seeing digital models with
the voices of Murray, Akroyd, Ramis and Hudson. But then again it's Ghostbusters
and maybe eerie is what Terminal Reality and Atari were going for.


Pieces Coming Together for
NASA's New Spacecraft


"NASA is using powerful computers and software programs to design the rocket that will
carry crew and cargo to space after the space shuttle retires. But those computers will have their work
checked the old-fashioned way with the first of several uncrewed demonstration launches beginning in 2009.
Ares I-X, the first Ares I test rocket, will lift off from Kennedy Space Center, Fla. in the summer of 2009.
It will climb about 25 miles in a two-minute powered test of Ares I first stage performance and its first stage
separation and parachute recovery system."
SlashDot

Former police officer's show gets back at crooked cops

Former Texas narcotics officer Barry Cooper is following up last years release
of his citizen's rights video Never Get Busted Againwith a reality show. Kop Busters
is a sort of a To Catch a Predator for crooked cops. In an example segment Cooper grew small Christmas trees indoors using lights similar to those used in growing
marijuana. Odessa police lied on the affidavit claiming a confidential informant
"saw the plants and/or the police could smell marijuana coming from the suspected house." When the police raided the house they found the Kop Busters attorney and servailance
tied to the Kop Buster mobile officenearby. In an effort to not lose face the police
handcuffed the attorney only to release him later when Cooper, his Kop Buster detectives
and the local media showed up at the Odessa police station to question police
involvement in this illegal raid. The Kop Busters segment was featured on CBS 7 on Dec. 4th. therawstory


Spore is the Most Pirated Game of 2008


Surprise Surprise, TorrentFreak has posted some statistics on
the most pirated games of the past year. Leading the list by a large margin is Spore,
made infamous even before its release for the draconian DRM attached to the game.
It was downloaded through BitTorrent roughly 1.7 million times, with The Sims 2
and Assassin's Creed following at just over a million each. (It's worth noting that
Spore came out in September, so that figure is essentially for a mere three months.)
GameSetWatch has posted a related piece discussing the
countermeasures involved in dealing with piracy.


GM says it "disappointed" and "betrayed" consumers

DETROIT (Reuters) - General Motors Corp on Monday unveiled an unusually frank
advertisement acknowledging it had "disappointed" and sometimes even "betrayed"
American consumers as it lobbies to clinch the federal aid it needs to stay afloat into next month.
"We have proliferated our brands and dealer network to the point where we lost
adequate focus on the core U.S. market," the ad said. "We also biased our
product mix toward pick-up trucks and SUVs."
"While we're still the U.S. sales leader, we acknowledge we have disappointed you,"
the ad said. "At times we violated your trust by letting our quality fall below industry
standards and our designs became lackluster."
But GM also says in the ad that it was hit by forces beyond its control as it tried to
complete a restructuring earlier this year.
"Despite moving quickly to reduce our planned spending by over $20 billion, GM finds
itself precariously and frighteningly close to running out of cash," the ad says.
A failure of GM would deepen the current recession and put "millions of jobs at risk,"
according to the ad, which also highlights the automaker's pledged restructuring and
ntention to begin repaying taxpayers in 2011.
Gunmen in drag get millions in Paris diamond heist

PARIS — Armed robbers wearing women's wigs and clothing made off with diamond
rings, gem-studded bracelets and other jewelry worth $108 million from a Harry Winston
boutique in Paris, in one of the world's largest jewel heists.
Investigators seized the store's surveillance tapes and police said one group under
suspicion was the so-called "Pink Panthers," a ring of jewel thieves mostly from the former
Yugoslavia. The international police agency Interpol has blamed the group for jewel thefts in
19 countries in Europe, Asia and the Persian Gulf worth more than
$150 million over the past 10 years.
A.P.
Man allegedly assaults girlfriend with burger
VERO BEACH — A Vero Beach man faces a domestic violence charge after authorities
said he assaulted his girlfriend with a cheeseburger. An Indian River County Sheriff's Office
arrest report said a 22-year-old man and his girlfriend got into an argument as they
sat in a car in front of their home.
The report said the man would not let the woman out of the vehicle, so she threw
his drink out of the car. In response, the man allegedly grabbed her arm and smashed
the cheeseburger into her face. The pair got out of the car, and authorities say the man
again took the McDonald's sandwich and put it on her face.
The man was released on $1,000 bond Wednesday.
Scott
|
Post a Comment
|