Saturday, July 23, 2011 at 1:32AM
ANNOUNCEMENTS

- Beers
- Comic-Con (Chris' pledge)



TECH

Gscreen pulls two 17 inchers out of it's laptopand puts them in your face

Suggestive! Lenovo may have taken its stab at the dual-screen laptop market with the
ThinkPad W700ds but GScreen is set to take a gouge at it with their new laptop, the SpaceBook.
The SB packs dual 17.3" 1920x1080 displays that slide out horizontally to form a natural side-by-
side dual-screen setup. There are two system configs, the higher-end gets you a 1.73GHz Corei7-
740QM CPU, 8GB DDR3, NVIDIA GeForce GTS 250M, 500GB HD and blah blah for $2,795. Pre-order
for these babies went up last week but only GScreen knows when these thing will ship. Discuss :D

engadget

quick mentions
-Lion is expected to land Wednesday.
-if you can't wait Mac OSX 10.7 leaks to torrent sites. Pirate Bay
-New Macbook Airs pre-loaded with Lion, Sandy bridge procs and thunderbolt are expected as well.




MOVIES

Harry Potter and the Deathly Hallows - Part 2 169.2M


All of us Tandem review of Harry Potter 8.

Week Of Leaks!
Batman teaser hits.
http://bigfanboy.com/wp/?p=8356

Teaser is just that. We see a bit of Bane and a bit of Batman and Bane ready to fight.
Summer of 2012 is not getting here fast enough.

The avengers trailer leaked.
No Hulk, new Captain America Suit in a quick shot. Movies looks sick!!!!

Full bootlegged trailer for the reboot of spiderman leaked as well check it
out at youbentmywookie before it gets yanked.

Facebook.com/ricmulligan


ODD NEWS
Chihuahua chases off robbers
ALTADENA, Calif., July 19 (UPI) --
Authorities in California said they are searching for a pair of robbers
who were driven away by the barking of an outraged Chihuahua.
The Los Angeles County Sheriff's Office said security video from Ace Smoke Shop
in Altadena depicts two hooded men entering the store with a rifle at about 7:30 p.m. July 7
and demanding money, the Los Angeles Times reported Tuesday.
The video shows the store owner begin to place money into a backpack
worn by one of the robbers while his Chihuahua starts barking loudly and forcefully at the men.
Investigators said the robbers were apparently spooked by the dog and
fled the store with less money than they could have obtained from the store owner.
The video depicts the Chihuahua follow the men from the store and chase them down the street.
No one was injured in the incident, deputies said.
The sheriff's office said it is searching for the suspects, described as male Latinos.
Woman's home overtaxed for 24 years
RACINE, Wis., July 19 (UPI) --
An 84-year-old Wisconsin woman said she wants a refund from her city
after she discovered she had been overpaying her property taxes for 24 years.
Angie France, who purchased the Racine home with her late husband, Tom,
for $50,000 in 1987, said she went to the city to see about lowering her house payments,
and assessors discovered she had been paying for 500 extra square feet of living space
ever since she moved in, WITI-TV, Milwaukee, reported Monday.
France said she was told the original appraisal was done from outside of the home
and officials mistakenly believed the attic was a bedroom,
leading to the overestimation of the house's square footage.
France said city officials are refusing to refund her the full amount and told her
it is the homeowner's responsibility to bring concerns about possible property tax overcharges
to the attention of officials.
"It's just not fair, so I feel if I owed them, they'd want their money
and I only think I'm doing what is right," France said.
She said the city's Finance and Personnel Committee recommended repaying
her about $450 for last year's overcharge, but her alderman recommended pursuing negotiations
to obtain more compensation.
Jesus image seen on Walmart receipt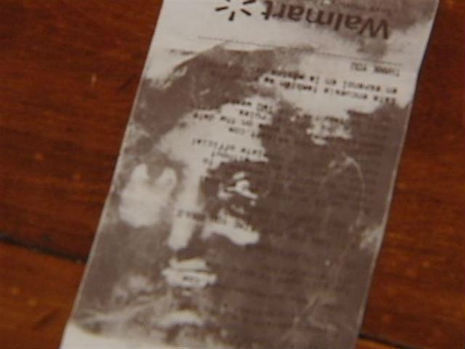 ANDERSON, S.C., July 19 (UPI) --
A South Carolina couple said a dark gray mark that appeared
on a Walmart receipt appears to bear the image of Jesus Christ.
Jacob Simmons and fiancee Gentry Lee Sutherland of Anderson County
said they received the receipt when they purchased pictures at Walmart June 12
and Simmons spotted the paper item on the floor of Sutherland's apartment June 15, WYFF-TV,
Greenville, S.C., reported Monday.
Simmons said a gray mark had appeared on the receipt in the shape of a face resembling Jesus.
"I was leaving the kitchen and I just looked on the floor,
and it was like it was looking at me," Simmons said. "Then the more you look at it,
the more it looked like Jesus, and it was just shocking, breathtaking."
Sutherland said she and Simmons believe the image was a response to a question
asked by their preacher in church that week.
"We had a message on knowing God, abiding in him," Sutherland said. "
(The preacher asked) 'If you know God, would you recognize him if you saw him?'"
"We just feel like it's a blessing that God showed it to us and opened our eyes.
And we just feel like we should share the blessing God gave to us to everybody else," Sutherland said.
Simmons said Walmart workers told him the receipt would only change colors if heat was applied,
but he does not know how it would have been heated enough to cause the mark.
VOICE MAILS

Jason from Texas asks us for tips on how to function with almost no sleep.


Follow us on Facebook.com/tankedshow
Voicemail 1-248-667-TNKD (8653)
tankedpodcast@gmail.com
www.tankedpodcast.com
Scott
|
Post a Comment
|