Sunday, July 10, 2011 at 1:21AM
Hosts: Scott, Aaron, Ric, Nate


ANNOUNCEMENTS

-Nate's back!
-Beers
-How was your 4th?



TECH
*UPDATE*
Verizon Tiered Plans Revisited


If you're worried about losing your existing unlimited plan, fear not; only new customers will be
required to subscribe to one of three new data plans: $30 for 2GB of data per month, $50 for 5GB,
or $80 for 10GB.
Verizon Wireless will then charge $10 per GB of data past the monthly allotment.
Mobile hotspot users will need to start paying a monthly fee starting on July 7th, too. Current
4G hotspot owners will be charged $30 for unlimited use and new customers will have to pay
$20 per 2GB of data consumed. The good news? Verizon confirmed that existing customers can
upgrade on or after July 7th and still hang on to their unlimited data plans — for now, at least.
BGR

Virtual Grocery Shopping


Where the rest of us see subway walls, Tesco's South Korean supermarket chain Home Plus
sees grocery shelves. In a trial run, Home Plus has plastered a subway station with facsimiles
of groceries, labeled with a unique code for each product. As commuters pass by on their way to work,
they can use a mobile-phone app to take pictures of the products they want, then check out.
The groceries are automatically delivered to their doorstep by the end of the work day.
TechologyReview




VIDEO GAMES
Move over Wii U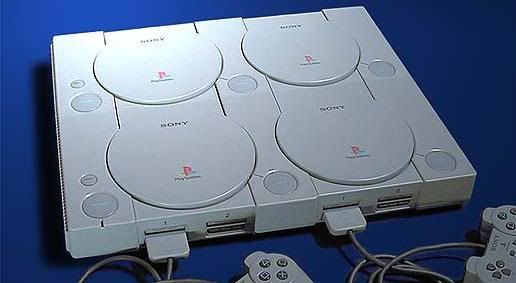 It looks like the next-generation console wars are heating up. Sony is now rumored to be preparing
the PlayStation 4 for a 2012 launch, according to a new report.
Perhaps more interesting, though, is that the PlayStation 4 may boast body movement
controls as one of its core features.
Production for the device is rumored begin at the end of 2011, according to Digitimes.
The device is being manufactured by Foxconn and Pegatron Technology.
Sony intends to ship at least 20 million units, according to the report.
Digitimes has a mixed record at these types of stories, so we'll have to
wait and see if a PS4 is coming to challenge the Wii U.
Mashable

*COMMERCIAL BREAK*

TV
ThunderCats are back!

From Warner Bros. Animation (WBA), ThunderCats is executive produced by Sam Register
(Teen Titans, Ben 10, The Looney Tunes Show), with Michael Jelenic (Batman: The Brave
and the Bold, Wonder Woman) and Ethan Spaulding (Avatar: The Last Airbender) producing.
ThunderCats, one of the most beloved cartoons of the 1980s and a continuing cultural force,
comes to Cartoon Network in an all-new contemporary re-imagining of the iconic animated series.
Set as an epic tale, ThunderCats tells the story of a hero's journey to fulfill his ultimate destiny.
The series begins with an hour-long special premiere event on Friday, July 29, at 8 p.m. (ET, PT).
Following the premiere, the show will air regularly on Cartoon Network
Friday nights at 8:30 p.m. (ET, PT) beginning August 5.


From Warner Bros. Animation (WBA), ThunderCats is executive produced by Sam Register
(Teen Titans, Ben 10, The Looney Tunes Show), with Michael Jelenic (Batman: The Brave
and the Bold, Wonder Woman) and Ethan Spaulding (Avatar: The Last Airbender) producing.
Catch the 10 min Preview @ YouBentMyWookie



MOVIES


Transformers 3 Dark of the Moon.



$97 million 3-day weekend haul, the third Transformers movie grossed the most ever
over the July 4th weekend, beating out previous champ Spider-Man 2 ($88.2 million).
But while its 6-day total of $181 million is impressive, it was not enough to beat
Transformers: Revenge of the Fallen's 6-day total ($214 million), landing in ninth place
on the all time six-day launch list. Transformers: Dark of the Moon did fail to best the
numbers of its predecessor (perhaps because the second film was really that bad),
but it did temprarily help boost 3D in theaters, with the 3D tickets accounting for
60% of the film's opening gross.
movies.com

Adam Sandler to voice Dracula
in a new cartoon comedy.
After an almost 10-year hiatus from animation, Eight Crazy Nights star Adam Sandler is
making his return as the voice of Dracula in the upcoming 3-D film Hotel Transylvania.
"We're thrilled to be working with Adam to create a comedic Dracula for a new generation,"
said Sony Pictures Animation's president of production Michelle Raimo-Kouyate.
"We have a unique story about that iconic character … that re-imagines Transylvania and
its legendary monsters in the way that only animation can."In the film, instead of a spooky
last-resort for humans, the Hotel Transylvania is a lavish getaway for monsters and their
families to escape the human world.
Sandler's Dracula is an overprotective dad who introduces his teenage daughter Mavis to the
world's most famous monsters, including Frankenstein (Kevin James) and his bride (Fran Drescher),
Quasimodo (David Spade), the Mummy (Cee Lo Green), and a family of werewolves
(Steve Buscemi and Molly Shannon). That is, until an interloping fellow named Jonathan
(Andy Samberg) arrives on the scene and turns the Prince of Darkness' world upside down.
The Angry bird's movie could

look something like this.

YouTube

Make sure to follow Ric over at Facebook.
Facebook.com/ricmulligan



ODD NEWS
Man preaches 'UFO gospel'
SAN DIEGO, July 6 (UPI) --
A San Diego man who snapped a picture he believes depicts alien spacecraft 21 years ago
says he believes UFOs will visit Earth next year to rescue humans.
Mike Orrell, 54, said he snapped a photo of the sky off Highway 78
at the Inaja memorial park in California 21 years ago and later noticed three red dots
in the corner of the picture, The San Diego Union-Tribune reported Tuesday.
Orrell, whose picture was recently featured as part of the "Science of Aliens" exhibit
at the Air & Space Museum in San Diego, said his research since taking the photo
has led him to believe the dots were extraterrestrial spacecraft.
He said he believes the aliens will return to Earth next year to rescue humans from a cataclysmic event.
"I've been given a great gift that I have been trying to share," he said.
"I believe I was chosen to spread the UFO gospel and to my dying day that's what I'm going to do."
Keith Taylor, former president of San Diego Association of Rational Inquiry,
said there is a simple explanation for the prevalent belief in UFOs.

"It's the manifestation of deliberate ignorance,"
he said. "Our culture has developed to the point where we choose to believe what we want to believe."




Guards bag prisoner in Mexico suitcase jailbreak
(Reuters) -

A Mexican prisoner hoped to take a trip to freedom
by packing himself into his girlfriend's suitcase.
But guards at the jail in the southeastern town of Chetumal grew suspicious
when the woman seemed nervous as she wheeled out the bulging bag
after a conjugal visit with the prisoner.
Opening the luggage, guards found Juan Ramirez folded into the fetal position
in his underpants and socks, a spokeswoman for local federal police said on Tuesday.
Ramirez and his girlfriend face criminal charges over the bungled escape.
School found using bomb as bell
(Reuters) - A mine awareness team in Uganda was horrified
to find an unexploded bomb being used as a bell when they visited
a school to teach children how to spot bombs, a local newspaper reported.
The Anti-Mine Network organization saw teachers banging the bomb with stones
to call children to lessons in a 700-pupil school in a rural area, the Daily Monitor said.
"Its head was still active, which means that if it is hit by a stronger force,
it would explode instantly and cause untold destruction in the area,
" Wilson Bwambale, coordinator of the organization, told the newspaper.
Bwambale said they would explode it in a cordoned off area.
The Ugandan military has fought two rebel insurgencies over the last two decades
and mines and bombs still litter former battlefields around the country.
This is the second bomb that the Anti-Mine Network have found in a Ugandan school
in the last six months. Another was found being used by children at lunchtime
as a toy and put away in a storeroom during lessons.


Nates Pick of the Week

VOICE MAILS
J from T asks if we have any tips for camping.

Scott's List with Links to stores
-Bring an Air mattress
-Use dry ice in your coolers
-Get a Gerber or Leatherman multi-tool
-Fire starting sticks
-Stock up on Doe piss
-Rope and a Tarp big enough to cover tent
-Sex doll
-Lots of booze
-Small radio
-At least 50ft of extension cord X2
-More Booze
-Games, Cards, Bones (dominoes),


Follow us on Facebook.com/tankedshow
Voicemail 1-248-667-TNKD (8653)
tankedpodcast@gmail.com
www.tankedpodcast.com
Scott
|
Post a Comment
|