Saturday, April 16, 2011 at 7:56AM
ANNOUNCEMENTS
April is Grilled Cheese Month. We don't know why? northbrandford.patch.com
-50 years ago today. Russian cosmonaut, Yuri Gagarin, becomes the first man in space.


Count me out. It's all you Hiller! Stay Thirsty my friend.
- Beers
- Hiller obtained his first Blu-Ray disc and it is...


TECH
Adobe goes to decimals again with CS 5.5
When you've hit as many nails on the head with your software like Adobe has with
its Creative Suite you're bound to eventually grasp for straws when it comes to new
product features. With that in mind I give you Adobe Creative Suite 5.5. CS5.5 is
mostly Adobe keeping up with current events by including improved HTML5 and CSS3
authoring tools along with more features to make production of content/applications
more streamlined for tablets, phones and other portable devices. Upgrades for the
Master collection start at $549 but if that or any of the other available packages are
a bit too much scrilla for ya' you can now use CS on a subscription basis. That's right
you can choose to use CS 5.5 for a year or month at a time starting at $65 per month
(depending on which plan you choose). CS 5.5 is set to ship in the next 30 days.
But wait...Photoshop for iPad?
Well...not quite, but Adobe is on an iPad love spree with three new applications for
everyone's favorite limited feature device:
• Adobe Eazel - finger painting app with WiFi delivery back to your station running PS
• Adobe Nav - the gem of the group, extends PS functionality with live controls and
menu bars for your station's PS workspace.
• Adobe Color Lava - smearing colors together and paying for it.
Adobe is said to have more apps in store but we can expect to see these three next
month as 5.5 hits.
Winklevoss Twins Can Row to a New Hobbie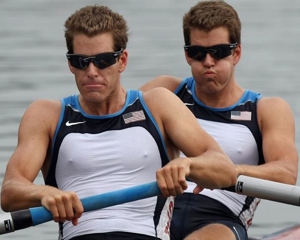 Cameron and Tyler Winklevoss must accept their $65 million settlement from
Facebook and move on.
A U.S. appeals court ruled Monday that the settlement — which was featured in the movie
The Social Network — still stands, despite the Winklevosses' claim that Facebook did not

disclose an accurate valuation.
The suit stems from the Winklevosses' claim that Facebook co-founder and CEO Mark
Zuckerberg stole their idea for the social-networking site. Zuckerberg and Facebook
deny the allegations, but agreed to settle in 2008. Since then, the Winklevoss twins
have attempted to secure a higher settlement by claiming that
Facebook is guilty of securities fraud.
Chief Judge Alex Kozinski wrote in Tuesday's ruling. "And the courts might have obliged,
had the Winklevosses not settled their dispute and signed a release of all claims against Facebook."
With both the district court and appeals court in agreement, it seems this may be the end of the
Winklevosses' claim to any additional shares of Facebook.
"For whatever reason, they (the Winklevosses) now want to back out. Like the district court,
we see no basis for allowing them to do so," Kozinski wrote. "At some point,
litigation must come to an end. That point has now been reached."
VIDEO GAMES
SCOTT, WANNA DO A FOLLOW-UP ON THE PS3 HACKER?
SONY CUT HIM A DEAL. yes post it.



FG does SFII
Quick video game reference from Sunday's Family Guy. Check it out before
Fox has it nixed from YouTube.

youtube no good now

It's at i-am-bored.com
Peter vs. Mr. Washy Washy


Childhood Cereals and Chris's Quest
to find the holy PB Max
MOVIES not in episode

The Wolverine Back on Track???

Darren Aronofsky out due to Scheduling issues. In? Looks like non other then
Duncan Jones. Writer/Director of Moon and Director of the Source Code.
Mark Walters at BFB asked Jones at SXSW about doing a comic book moive.
He talked about wanting to do Superman or Judge Dred.
He said nothing about Wolverine. He meets with Fox soon
to talk about the project.
New Look for the Hobbit??
Jackson is
currently filming
The Hobbit
in 3-D at 48 fps instead of the industry
standard 24 fps, and as a result, the
Lord of the Rings
follow-up will be the first
wide release to pave the way into a brave new digital world of filmmaking —
whether or not theaters around the world are ready for it. 48fpm will Increase
picture clarity and reduced eye strain that 24fpm gives us now.
Fox things believe that by December 2012 there will be over
10,000 theatres that could play 48 Frames and 3-D.
Hawkeye in Thor?????
Follow up of a story a few weeks ago. I saw a fight scene this week that had
a dark bow wielding figure pointing he arrow at Thor durring a fight sceene.
Looks like Hawkeye. No idea if this is him or not. But we know he has to be
the cameo in Thor. No one else makes sence right now.
He is the only Avenger we have not seen on screen yet.



AUTOS


Hiller test drove a Camaro

Meh.
Hiller checked out a Volt
Meh.
ODD NEWS
Naked man attacks SWAT robot with AK-47

(I know Kyle here doesn't have an AK-47 but it still ties in with naked men shooting robots)
FA, Last Wednesday, Brevard County police responded to a homeowner's threat to take his life
and the life of anyone who tried to stop him and got a little more than they bargained for.
A SWAT team was summoned and they later deployed a robot mounted with cameras into
the house. The owner answered by first running out naked, then kicking the robot before
finally firing at it multiple times with an AK-47. Despite attacking the $65,000 robot in the
buff with an fully-automatic weapon the dispute ended peacefully with the homeowner
getting dressed and leaving his house with his hands up. The robot remains in critical
condition.
Brewmaster apologizes for bar pee
CHICAGO, April 12 (UPI) --
The brewmaster of Chicago's Goose Island brewery apologized
for urinating into beer glasses while standing on a bar during a birthday party.
Brewmaster Greg Hall, 45, whose family's Goose Island brewery
was recently purchased by Anheuser-Busch for $38 million,
said he was highly intoxicated Friday when he stood on the bar at
Bangers & Lace and urinated into two beer glasses,
the Chicago Tribune reported Tuesday.
Hall said his memory of the incident is incomplete
due to his intoxication level, but he admitted it happened.
"I did what I did and I take responsibility for it," he said.
"I feel awful. I wouldn't stand [for] it if someone did it at my place
or if one of my people did something like that."
Matty Eggleston, the Bangers & Lace bartender who cleaned up the mess,
said he does not accept the apology.
"It was disgusting, vile and revolting," he said.
"We all do dumb things; that went to a level that was pure insult."
However, Bangers & Lace co-owner Matt Eisler
said the establishment is taking "the high road."
"You can imagine we're not happy,
but an apology has been offered and we'd like to move on,
" he said. "It's too bad because it started off as a cool night
with a bunch of people from Goose coming to our bar to drink beer."
Maine legalizing switchblades for one-armed people
(Reuters) -

Maine lawmakers on Wednesday approved legalizing switchblades for people with one arm,
moving close to becoming the first state to make such an exception
to laws that ban use of the spring-action knives.
Backers of the measure say legalizing switchblades would eliminate
a need for one-armed people to be forced to open folding knives
with their teeth in emergencies.
The bill to allow amputees and other one-armed people to carry the quick-opening knives
cleared Maine's Senate on Wednesday after passing the House on Tuesday, Senate officials said.
Until now, Maine banned the use of switchblades by anyone.
In most states, carrying switchblades is illegal
in most circumstances, though owning the knives may be allowed in some states.
Federal law allows their use by a person with one arm only on federal property
if the blade is shorter than three inches.
The Maine bill requires that the knives
have a blade that is three inches or shorter.
Governor Paul LePage is expected to sign the measure into law
in the next couple of days, said spokeswoman Adrienne Bennett.

Voice mail Jason from Texas

Scott
|
Post a Comment
|