Friday, December 3, 2010 at 2:47AM
ANNOUNCEMENTS

-Beers
-Scott Dares to Drink the Banned Four Loko!
-Thanksgiving Wrap up/Black Friday
-We have yet another food beating(s) at the end of the show.


TECH
VIDEO GAMES


Depressing gaming news from Hiller
$70 guys...$70.


"Angry Birds" Get the Christmas Spirit
Credit: Mashable
Prepare for "A Very Angry Birds Christmas" this holiday season.
Rovio, the company behind the insanely popular Angry Birds franchise, has confirmed via Twitter
that Angry Birds Halloween will be receiving a special yuletide-themed update.
The update, which will be free for owners of Angry Birds Halloween for iOS, is expected sometime
in early December. Android Angry Birds fans will be happy to know that the
Christmas edition will also be available to them — for free.
MOVIES
The new Transformers Prime cartoon has the Tanked opening music in the show.


Sad News
Leslie Nielson passes with Complications from Pneumonia in Ft. Lauderdale FL. with family and friends.
"surely you most be joking?" No, I'm not Joking And don't call me Shirley." One of my favorite lines he ever had.
Also the passing of the best Director in the Star Wars series. Irvin Kershner.
He also Directed Robocop 2 and 007 Never say Never again. Among many others in film at TV.
Lucas said that he learned a lot form Kershner and called him a good Friend.
Irvin Kershner IMDB
Movie reviews: Faster and Burlesque
Reviews By Ric
IMDB for
FASTER
Burlesque
Heath Ledger To Appear In 'The Dark Knight Rises'?
YouBentMyWookie
James Franco and Anne Hathaway
as Oscar Hosts: Will It Work?
No!
Blog.moivephone.com
SCIENCE

Scientist pinpoints most uneventful day

CAMBRIDGE, England, Nov. 30 (UPI) --
A British computer scientist said his calculations suggest April 11, 1954,
was the most uneventful day of the 20th century.



AUTOS

ODD NEWS

FOOD BEATING

Tis' The Season, for Food Beatin's!!!

FLORIDA – Police say a woman was arrested after she allegedly threw a bowl
of beans and a bottle of cologne at her husband.
The incident happened Wednesday shortly before 11:00 a.m. at a home in Boca Raton.
35-year-old Yanet Barreto Carter was arguing with her husband about a juvenile female
when she allegedly threw the beans and cologne. She was taken into custody and faces
charges of Simple Battery. (?)
The juvenile female was also taken into custody and faces charges of Simple Battery.
The investigation is continuing.
Clerk foils robbery with pastries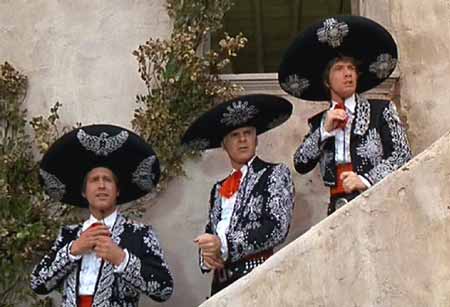 DEMING, N.M., Nov. 30 (UPI) --
Police in New Mexico said a would-be robber
was stopped by a female clerk armed with a loaf of bread and a box of pastries.
Deming police said a masked man who did not display a weapon
tried to run off after snatching the cash register from the Amigo's store
at about 3 p.m. Wednesday
and soon found himself on the receiving end of a thrown loaf of bread and a box of empanada,
The Deming Headlight reported Tuesday.
The robber dropped the register and fled
in a gray or primer-colored car with several other people, police said.
Amigo's owner Arnold Orquiz said the clerk initially tried to refuse his reward offer,
but he had to insist.
"I gave her a $20 bill," he said, explaining "'You're my hero. You saved my day.'"

Scott
|
Post a Comment
|