Thursday, April 29, 2010 at 2:25AM
ANNOUNCEMENTS
- Frank the Brew-master is on the show this week and brings gifts!
- Beers
- Kart Race Talk



TECH
Chris
Gizmodo faces wrath, legal and otherwise

On Friday, members of California's Rapid Enforcement Allied Computer Team* in San Mateo entered Gizmodo
editor Jason Chen's home without him present and confiscated four of his computers and two servers. This was
part of an investigation into the lost, found and posted on the internet prototype iPhone that is set to release later
this summer. Officers had a warrant though Jennifer Granick, civil liberties director for the Electronic Frontier
Foundation say that it was issued unjustly. Apparently under the Privacy Protection Act it is prohibited for the
government to sieze materials from journalists who possess them for the purpose of public communication, not
even if they are investigating whether or not that journalist committed a crime. Even though Gawker Media (Chen's
employer) returned the iPhone per Apple's request the broad nature of the warrant that gave officers authroity
to sieze items not related to the missing iPhone is under legal question.
* dey da police!



Scott
Sony Delivers Floppy Disk's Last Rites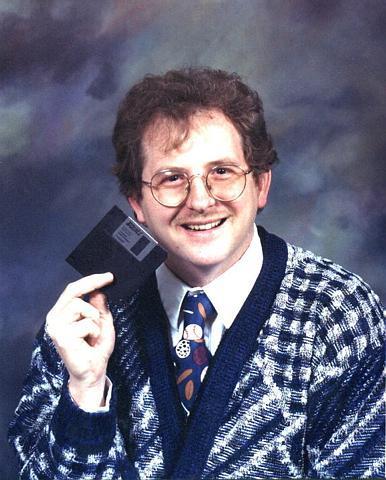 The days of the 3.5-inch floppy disk are now officially numbered.
Thanks to the creation of storage methods such as CDs, DVDs, Zip, and USB drives, Sony saw its
Japanese sales of floppies decline from a record 47 million disks in fiscal 2002 to 12 million in fiscal 2009.
Certainly the writing had been on the walls for years. With the release of the iMac in 1998, Apple was the
first computer maker to take the plunge and eliminate the floppy completely. Dell followed suit in 2003
when it dropped the floppy as standard equipment on one of its Dimension desktops.



VIDEO GAMES

Super Street Fighter 4 came out today...that is all.
youtube (Hiller gamestop rant)


Huge News! Nintendo to Release A Big Black Wii!


The black Wii will be identical to the white one except for the color (there won't be any differences
when it comes to the gameplay), with a bundle that includes not only the Wii, a Wii remote and Wii Sports,
but also a copy of Wii Sports Resort and a Wii MotionPlus upgrade for more precise controls.
The bundle will reportedly be priced at $199.
Mashable



MOVIES
Iron Man 2 Premier last night. Is the Excitment getting to you guys? I know that I can't wait. I will be seeing it the 4th.
Preview Next week. I am going to be a bit excited guys. As we will have a special guest. From Caddyshack and Tron. Ciny Morgan. She will be joining us to talk about Tron Legacy and her push as well as Tron fans to have her in the film.
SCIENCE
TRANSPORTATION

All Aboard The Meat Train
Get ready for the most delicious way to travel: Amtrak will soon run its Heartland Flyer rail line on
beef byproduct biodiesel. Just like me, this train will run slowly and inefficiently on burgers.
Yep, thanks to a $274,000 grant from the Federal Railroad Administration, this train will be
running on pure meat. Well, pure meat and diesel.
And yes, this train will almost definitely smell like a fast food restaurant
whenever it passes through town. Choo choo!
ODD NEWS
Police say man wrapped in toilet paper robs store
LINCOLN, Neb. –
A man who concealed his face by wrapping his head with toilet paper
robbed a Lincoln convenience store.
Police said the man was armed with a knife
when he robbed the store around 10:30 on Saturday night.
He escaped on foot with an undisclosed amount of money from the safe.
Capt. David Beggs said Sunday that no one was injured.
Utah boy mowing the lawn runs into TNT canister
HOOPER, Utah –
A 17-year-old Utah boy mowing the lawn
at his home in Hooper ran into a canister of TNT
that may date back as far as World War II.
Taylor Wood was mowing the pasture behind the family home on Sunday
and heard a thud. He then saw a canister that said "TNT shell" on the side.
His mother, Charise Wood,
described the canister as looking like a small can of tomato paste.
She quickly called emergency crews.
Charise Wood said the family has lived in the home seven years
but had never mowed that area of pasture
because they had let horses eat down the grass.
Now the family has goats that aren't interested in that area.
The Weber County sheriff's department took the canister for disposal.
Hooper is about 35 miles north of Salt Lake City.
Cookbook pulped after recipe calls for 'salt and black people'
SYDNEY (AFP) – It's a tiny misprint,
but an Australian publisher has had to pulp a cookbook
after one recipe called for
"salt and freshly ground black people"
to be added to the dish.
Penguin Group Australia pulped and reprinted about 7,000 copies of "Pasta Bible"
after the typographical error was found in the ingredients for
spelt tagliatelle with sardines and prosciutto,
The Sydney Morning Herald reported Saturday.
"We're mortified that this has become an issue of any kind,
and why anyone would be offended,
we don't know," head of publishing Bob Sessions was quoted as saying.
Penguin said almost every one of the more than 150 recipes in the book
called for salt and freshly ground black pepper but a misprint occurred on just one page,
probably as a result of a computer's spellchecker programme.
"When it comes to the proofreader,
of course they should have picked it up,
but proofreading a cookbook is an extremely difficult task.
I find that quite forgivable," Sessions said.
He said it would be extremely hard to recall the stock
but if anyone complained about the "silly mistake"
they would be given the new version.
Woman jailed over cheeseball murder
CANBERRA (Reuters) –
An Australian woman who ran down and killed a man
who threw cheese-flavored snacks at her car was jailed Thursday for 25 years.
Sydney woman
Sarah May Ward intended to injure Eli Westlake for throwing the snacks at her vehicle,
judge Roderick Howie told the New South Wales Supreme Court,
describing the 21-year-old's murder as "a senseless act of anger."
"She clearly wanted to teach the young men a lesson,
" the Australian Associated Press quoted judge Howie as saying as he sentenced Ward to jail for a minimum 18 years.
The jury was told Ward, 39, had drunk two bottles of wine and used cannabis,
amphetamine drugs and anti-depressants before getting into her car in Sydney's northern suburbs on June 7, 2008.
She decided impulsively to use the vehicle as a weapon after Westlake threw the snacks at her car as a joke
while walking home with his brother and a group of friends.
The judge said while there was more involved than Westlake's brother and friends claimed,
an "incensed" Ward had driven directly at Westlake after a brief physical altercation with the group,
running him over and killing him.
Ward told the court she had been scared of the group and hit the car's accelerator by mistake while trying to get away.

Scott
|
Post a Comment
|