Saturday, April 24, 2010 at 1:10AM
ANNOUNCEMENTS

-Beers




TECH

New iPhone lost and found.

So here's the deal, Gizmodo got their hands on an iPhone reported lost at
a bar in Redwood City in a case to camouflage its exterior. Upon opening
it up they found an iPhone that they are convinced is the next iPhone. The
phone has a few new features:
- front facing camera
- rear camera now has flash
- Micro-SIM
- higher-res screen
- flat glass (ceramic?) back w/aluminum edges and buttons (very square)
- 16% larger battery
Gizmodo is convinced this is the real deal as the interns clearly display the
Apple branding, the phone is running OS 4 (supposedly before it was
announced) and it is recognized as an iPhone on the Gizmodo test computers.
The design is subject to discussion over whether it's a step ahead or back for
Apple but everyone can agree that the intrigue will carry on to June.
UPDATE: On Monday, Apple Senior VP Bruce Sewell sent an email to Gizmodo
stating:
"It has come to our attention that GIZMODO is currently in possession of
a device that belongs to Apple. This letter constitutes a formal request that you
return the device to Apple. Please let us know where to pick up the unit."
You can bet your ass Gizmodo is gonna' return it ASAP.
Possesion is 9/10 of the law... fuck apple.
gizmodo







VIDEO GAMES

Marvel vs. Capcom 3 announced

Capcom unveiled the "decade in the making" sequel to one of the most celebrated
fighting games of all time last week at the Captivate 2010 event. Yes, Marvel vs.
Capcom 3: Fate of Two Worlds got a trailer today showing Wolverine vs. Ryu,
Iron Man vs. Morrigan and Hulk vs. Chris Redfield*. The game will run in 3D ala
Tatsunoko vs. Capcom and will be powered by Lost Planet 2's MT Framework
engine. The silhouettes should clue you in to some of the proposed roster for
the game though I can only hope that it comes close to Marvel vs. Capcom 2's
56 selectable characters. Marvel vs. Capcom 3 is slated for a Spring 2011

*predicted trailer outcome: Ryu will be murdered, Morrigan will be repulsor rayed
into oblivion and Chris Redfield will be smashed into pulp. Don't fuck with Marvel :D

7 Eleven To Start Selling Used Games


7-Eleven, the international convenience store chain, is making another large step into the used
gaming market by announcing a program to sell value-priced used games in half of its U.S-based stores.
7-Eleven will be teaming with a company called Game Trading Technologies, Inc., in order to procure the stock
of used games. 7-Eleven will only carry games selling for $20 or less, which should stand at a stark contrast to
the new releases that 7-Eleven sells, most of which retails for $50 or $60.




MOVIES

But does it really Kick-Ass?

I'm sure the entire Tanked crew is gonna' give their two cents on this one.
Avengers: Writer/Director Of the TV series Buffy the Vampire Slayer, Angel, Firefly/Serinity and Doll house has gotten the nod to direct the Avengers. He's a perfectionist and comic book guy. He should be a good fit. That is a big cast of names for Joss to play with. See how it all looks.
Star Trek June 29th 2012. Stars shooting the first part of 2011. I so can't wait to see the next installment of this series.
Star Wars coming to Blu Ray. Whatever. I am so done with Lucas trying to get my mommy. Unless it is the Original cut of Star Wars (4 5 6) I don't care. I know Blu Ray is better quality. I just am sick of him waiting and waiting and waiting w this shit. Done w/Lucas.




BEER!
Move over PBR, it's GAME DAY!
Some folks might not know it but 7-Eleven had a beer back in 2003 called
Santiago de Oro which was imported and advertised as a beer of drinkers
seeking luxurious imbibes. Now times have changed and 7-Eleven is targeting
the lower end of the financial spectrum with GAME DAY! This brand is looking
to carry a smaller price tag for more thrifty beer drinkers. As the press
release says "Beer and sports have a natural affinity for each other.""We think
GAME DAY is ideal to drink all week long." No word on how this stuff actually
tastes or how much it's going for but GAME DAY should be for sale in 4,200
7-Eleven stores (that sell full-strength beer) next month.
AUTOS

ODD NEWS
Rectum? I damn near drank 'em!
Proving that they have just as much right to compete with Germany in the "weird-ass
European country" award, Austria now has a rectum bar. Just outside of Vienna lies
a bar that is shaped like a digestive track complete with tongue, stomach, intestines
(small and large) and a big ass (no pun intended) pimply anus on the end. Although
I shudder to think what is served there I can only imagine that the bar will please
even the most stubborn Austrian giant ass-fetishists.
Security camera in Ohio captures runaway saw blade
LORAIN, Ohio –
A
home security camera
in
Ohio
has captured
a construction mishap that could have been a lot worse.
Video from the camera shows a large blade spinning off a saw
being used to cut through a street.
The blade then rolled through a yard and ended up leaving a 3-foot gash
in the side of an empty house in
Lorain
, 26 miles west of
Cleveland
.
Rachel Gayhart said she and her husband checked their video Monday
to see why the
street work
wasn't finished.
She said the blade missed a gas meter on the side
of the neighboring house by only two feet.
The video shows a construction worker retrieving the runaway blade,
and putting it back on the saw.
Lorain officials said the firm doing the work under contract
for the city is investigating the incident.
Woman, 89, grabs handgun and fires at intruder
DES MOINES, Iowa –
An elderly Des Moines woman used a handgun to ward off a man
who bashed in the front door of her home.
Beatrice Turner said the man pounded on her door early Tuesday.
Despite being told he had the wrong house,
the man used his fists to break through the wood door.
The 89-year-old Turner said she grabbed a handgun
and told the man she would shoot if he came inside.
When the man entered, she fired a single shot.
A neighbor called police,
who found 37-year old Nelson McAlpine standing on Turner's front lawn.
The uninjured McAlpine was arrested on a charge of second-degree burglary.
McAlpine is being held in the Polk County Jail in lieu of $10,000 bond.
It wasn't immediately determined if he has a lawyer.
China's "robot dad" aims to show inventions to world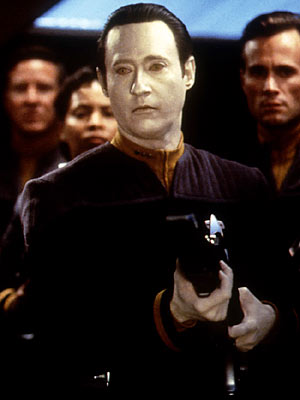 SHANGHAI (Reuters) –
Wu Yulu, a 49 year old farmer from the outskirts of Beijing,
has become a household name in China for his homemade robots.
Now, the creations that he calls his children9
are about to gain international renown.
Made from scrap materials including wire and screws,
Wu has invented over 47 robots which can pour tea,
offer smokers a light and paint pictures.
Wu, who received no education after primary school,
has become a hero in Chinese media for his whirring,
ticking and talking inventions,
and now foreign media have taken an interest in him ahead
of his appearance at the Shanghai World Expo which runs from May to October.
"I am a little famous now," Wu told Reuters.
"I have been doing this for over than twenty years
but I feel that each year more people discover my inventions."
"At the Expo I can receive everyone's recognition.
I am representative of all farmers, this is something very glorious."
Wu said financing his automaton hobby
was a huge burden on his family.
Since he started building robots in 1986,
Wu has burned down his house and prompted his wife to threaten divorce
after he spent all his money financing his tinkering passion.
Born into a family of farmers,
Wu invented tools in his Mawu village to help farm more effectively
such as changing his bicycle into a seeding machine.
His latest project is a robot that can give massages.
"I want to make more useful robots to help humans,
I've also designed a robot which can help chop the meat when cooking," he said.
His brightly colored metal figures,
with painted human features and clothes
have already been shown in Japan, Korea and Hong Kong.
"It is possible I am able to visit the UK soon,
" Wu said, adding that no date has been fixed but it was in the pipeline.


Scott
|
Post a Comment
|
1 Reference
|